Personality Plus For Parents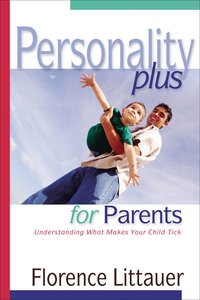 Part of being a great parent is understanding and respecting each child's individuality. Florence Littauer uses the proven principles of PERSONALITY PLUS to help you nurture, motivate and discipline your children with greater insight. From Revell
You May Also Be Interested In
About "Personality Plus For Parents"
Part of being a great parent is understanding and respecting each child's individuality. Florence Littauer uses the proven principles of PERSONALITY PLUS to help you nurture, motivate and discipline your children with greater insight. From Revell
- Koorong


Meet the Author
Florence Littauer
The popular author of numerous books, including the best-selling Personality Plus, Florence Littauer has taught leadership seminars for twenty-five years and is the president of CLASS Speakers, Inc. She and her husband, Fred, travel internationally conducting seminars and retreats. Littauer lives in Cathedral City, California.