Picture That! 2 Bible Story Book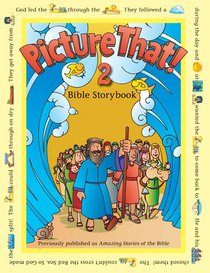 A second 'Picture That' book features the amazing stories from both the Old and New Testament. It is for all those kids who loved the first one. All the same icon features and easy readability are here for their enjoyment.'Excellent for Homeschool Use'

- Publisher Now children can read some of the most remarkable Bible stories in Picture That! 2 Bible Storybook. This easy-to-read, interactive book encourages reading development and Bible learning at the same time. A follow-up to the original Picture That! and based on the New International Reader's Version of the Bible (NIrV---the NIV for kids!), Picture That! 2 is reading at its easiest! Written by best-selling author Tracy Harrast, this fun Bible storybook includes: * More than 60 Bible stories that will amaze and inspire new readers * More than 120 full-color picture icons that encourage beginning readers to jump from picture to picture, as they try to read words in between * Bold, colorful full-page illustration * Plus WHAT DID YOU LEARN?, a one-line lesson summary at the end of each story that help children remember and apply what they learn Unique and creative---Picture That! 2 is bound to become a favorite.

- Publisher
You May Also Be Interested In
About "Picture That! 2 Bible Story Book"
A second 'Picture That' book features the amazing stories from both the Old and New Testament. It is for all those kids who loved the first one. All the same icon features and easy readability are here for their enjoyment.'Excellent for Homeschool Use'
- Publisher

Now children can read some of the most remarkable Bible stories in Picture That! 2 Bible Storybook. This easy-to-read, interactive book encourages reading development and Bible learning at the same time. A follow-up to the original Picture That! and based on the New International Reader's Version of the Bible (NIrV---the NIV for kids!), Picture That! 2 is reading at its easiest! Written by best-selling author Tracy Harrast, this fun Bible storybook includes: * More than 60 Bible stories that will amaze and inspire new readers * More than 120 full-color picture icons that encourage beginning readers to jump from picture to picture, as they try to read words in between * Bold, colorful full-page illustration * Plus WHAT DID YOU LEARN?, a one-line lesson summary at the end of each story that help children remember and apply what they learn Unique and creative---Picture That! 2 is bound to become a favorite.
- Publisher


Meet the Author
Tracy Harrast
Tracy Harrast is a prolific writer of children's books. She is the author of the Peek-a-Bible series and Picture That! Bible Storybook. She lives with her husband and three children in Alpharetta, Georgia.