Pierced For Our Transgressions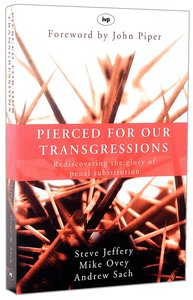 The doctrine of penal substitution states that God gave himself in the person of his Son to suffer instead of us the death, punishment and curse due to fallen humanity as the penalty for sin. The belief that Jesus died for us, suffering the wrath of his own Father in our place, has been the wellspring of the hope of countless Christians through the ages.

However, an increasing number of theologians and church leaders are questioning this doctrine, claiming, for example, that it misunderstands the nature of God's judgment; that it divides the Trinity; or that it misreads crucial texts such as Isaiah 53 or Mark 10:45. The doctrine has been provocatively described as 'a form of cosmic child abuse'. In recent years, the criticisms - including some from within the evangelical constituency - have intensified. Furthermore, the debate is no longer confined to the academy, and has now found its way into popular Christian books and magazines.

In response, Jeffery, Ovey and Sach offer a fresh articulation and affirmation of penal substitution. In Part 1 they make the case that the doctrine is clearly taught in Scripture; that it has a central place in Christian theology; that its neglect has serious pastoral consequences; and that it has an impeccable pedigree in the history of the Christian church.

In Part 2, the authors then engage systematically with over twenty specific objections that have been brought against penal substitution. Their clear exposition and analysis, and charitable but firm responses, are accessible to all with a serious concern for the issues.

'This extended declaration and defence of the penal substitutionary view of Christ's atoning death responds to a plethora of current criticisms . . . with a thoroughness and effectiveness that is without parallel anywhere . . . I hail this treatise as an epoch-making tour de force.'
- J. I. Packer

'This book deserves the widespread circulation achieved by corresponding contributions a generation ago - those of Leon Morris, Jim Packer and John Stott.'
- D. A. Carson

' . . . I commend this book for its comprehensive and fair scrutiny of the many objections brought against the doctrine of penal substitution in recent years.'
- I. Howard Marshall

' . . . probably the most significant book on the doctrine of the cross since The Cross of Christ. It is timely and urgently needed. Let the exposition of this magnificent doctrine both inform your mind and warm your heart.'
- Mike Pilavachi

'The authors of this work compel us to take seriously an objective view of the cross of Christ; one that is not simply dependent on how we feel and what the culture around us promotes.'
- Michael Nazir-Ali

'At a time when some people seem determined to snuff out this doctrine from what is sung and taught . . . there is a need for the vital doctrine of penal substitution to be clearly, comprehensively and compellingly explained. This book does the job admirably.'
- Stuart Townend
- Publisher
You May Also Be Interested In
About "Pierced For Our Transgressions"
The doctrine of penal substitution states that God gave himself in the person of his Son to suffer instead of us the death, punishment and curse due to fallen humanity as the penalty for sin. The belief that Jesus died for us, suffering the wrath of his own Father in our place, has been the wellspring of the hope of countless Christians through the ages.

However, an increasing number of theologians and church leaders are questioning this doctrine, claiming, for example, that it misunderstands the nature of God's judgment; that it divides the Trinity; or that it misreads crucial texts such as Isaiah 53 or Mark 10:45. The doctrine has been provocatively described as 'a form of cosmic child abuse'. In recent years, the criticisms - including some from within the evangelical constituency - have intensified. Furthermore, the debate is no longer confined to the academy, and has now found its way into popular Christian books and magazines.

In response, Jeffery, Ovey and Sach offer a fresh articulation and affirmation of penal substitution. In Part 1 they make the case that the doctrine is clearly taught in Scripture; that it has a central place in Christian theology; that its neglect has serious pastoral consequences; and that it has an impeccable pedigree in the history of the Christian church.

In Part 2, the authors then engage systematically with over twenty specific objections that have been brought against penal substitution. Their clear exposition and analysis, and charitable but firm responses, are accessible to all with a serious concern for the issues.

'This extended declaration and defence of the penal substitutionary view of Christ's atoning death responds to a plethora of current criticisms . . . with a thoroughness and effectiveness that is without parallel anywhere . . . I hail this treatise as an epoch-making tour de force.'
- J. I. Packer

'This book deserves the widespread circulation achieved by corresponding contributions a generation ago - those of Leon Morris, Jim Packer and John Stott.'
- D. A. Carson

' . . . I commend this book for its comprehensive and fair scrutiny of the many objections brought against the doctrine of penal substitution in recent years.'
- I. Howard Marshall

' . . . probably the most significant book on the doctrine of the cross since The Cross of Christ. It is timely and urgently needed. Let the exposition of this magnificent doctrine both inform your mind and warm your heart.'
- Mike Pilavachi

'The authors of this work compel us to take seriously an objective view of the cross of Christ; one that is not simply dependent on how we feel and what the culture around us promotes.'
- Michael Nazir-Ali

'At a time when some people seem determined to snuff out this doctrine from what is sung and taught . . . there is a need for the vital doctrine of penal substitution to be clearly, comprehensively and compellingly explained. This book does the job admirably.'
- Stuart Townend
- Publisher
- Koorong

An increasing number of theologians and church leaders are questioning the doctrine of penal substitution. The authors offer a fresh re-articulation of the doctrine and its central role, and engage with over twenty specific objections that have been brought against it.
- Publisher


Meet the Authors
Steve Jeffery
Steve Jeffery is studying theology at Oak Hill Theological College, London, in preparation for full-time Christian ministry. He has a PhD in physics from Oxford University.
Andrew Sach
Andrew Sach studied theology at Oak Hill and is now on the staff of St. Helen's, Bishopsgate, in central London. He has a PhD from York University.
John Piper (Fwd)
John Stephen Piper was born 11 January 1946 in Chattanooga, Tennessee, to Bill and Ruth Piper. The Pipers soon moved to Greenville, South Carolina, where John spent his growing-up years. His father was an itinerant evangelist who also ministered through international radio and Bible courses. John has written a tribute to his mother, who died in 1974, in the booklet, What's the Difference (Crossway Books, 1990) which is also chapter one of the book, Recovering Biblical Manhood and Womanhood (Crossway Books, 1991).

At Wheaton College (1964-68), John majored in Literature and minored in Philosophy. Studying Romantic Literature with Clyde Kilby stimulated the poetic side of his nature and today he regularly writes poems to celebrate special family occasions and rich, biblical truths. At Wheaton John also met Noel Henry whom he married in 1968.

Following college, John completed a Bachelor of Divinity degree at Fuller Theological Seminary in Pasadena, California (1968-71). While at Fuller, John discovered the writings of Jonathan Edwards.

John did his doctoral work in New Testament Studies at the University of Munich, Munich, West Germany (1971-74). His dissertation, Love Your Enemies, was published by Cambridge University Press and Baker Book House (and is now available through Crossway). Upon completion of his doctorate, he went on to teach Biblical Studies at Bethel College in St. Paul, Minnesota for six years (1974-80).

In 1980, sensing an irresistible call to preach, John became the senior pastor of Bethlehem Baptist Church in Minneapolis, Minnesota, where he ministered for 33 years, until 2013. Together with his people, John was dedicated to spreading a passion for the supremacy of God in all things for the joy of all peoples through Jesus Christ - a mission he continues now for the wider church through the ministry of desiringGod.org. John says of his ministry:
"The ministry of preaching is the central labor of my life. My prayer is that through that ministry and everything else I do the great glory of our God and Savior Jesus Christ would be magnified as more and more people come to live out the obedience of faith more and more deeply."

John is the author of over 50 books and now frequently travels to speak, and writes regularly, through Desiring God.

John and Noel have four sons, a daughter, and twelve grandchildren.
Customer Reviews For "Pierced For Our Transgressions"
Write Your Own Review
The new standard work on penal substitution?
By David McKay,

Apr 27 2007
This well-written book is a restatement of the bible's message about Jesus' death for our sins. Some people in our world are revolted by the idea of Jesus taking the punishment due to us and are calling it cosmic child abuse. The book's authors deal with objections to this key Christian teaching, and show that it is not a Johnny-come-lately, but has been believed and taught throughout the history of the Christian church.

They have also created a website with the same name, which includes useful supplementary material, as well as extracts from the book, and links to talks and music which relate to the book's subject.

If you love Jesus Christ and love the message of his death for us, you'll be thrilled with Pierced for our transgressions. If you have questions about how God could send his Son to die for us, it will also be worth reading.

Highly recommended.
{{review.title}}
By {{review.author.name}},

{{review.reviewCreatedDate | date:'MMM dd yyyy'}}

{{reviewdescription}}
{{review.text}}
---