Pilgrim Theology: Core Doctrines For Christian Disciples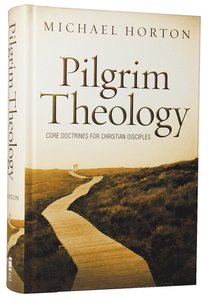 The 2011 award-winning publication The Christian Faith garnered wide praise as a thorough, well-informed treatment of the philosophical foundations of Christian theology, the classical elements of systematic theology, and exegesis of relevant biblical texts. Pilgrim Theology distills the distinctive benefits of this approach into a more accessible introduction designed for classroom and group study. In this book, Michael Horton guides readers through a preliminary exploration of Christian theology in 'a Reformed key.' Horton reviews the biblical passages that give rise to a particular doctrine in addition to surveying past and present interpretations. Also included are sidebars showing the key distinctions readers need to grasp on a particular subject, helpful charts and tables illuminating exegetical and historical topics, and questions at the end of each chapter for individual, classroom, and small group reflection. Pilgrim Theology will help undergraduate students of theology and educated laypersons gain an understanding of the Christian tradition's biblical and historical foundations.

- Publisher
You May Also Be Interested In
About "Pilgrim Theology: Core Doctrines For Christian Disciples"
The 2011 award-winning publication The Christian Faith garnered wide praise as a thorough, well-informed treatment of the philosophical foundations of Christian theology, the classical elements of systematic theology, and exegesis of relevant biblical texts. Pilgrim Theology distills the distinctive benefits of this approach into a more accessible introduction designed for classroom and group study. In this book, Michael Horton guides readers through a preliminary exploration of Christian theology in 'a Reformed key.' Horton reviews the biblical passages that give rise to a particular doctrine in addition to surveying past and present interpretations. Also included are sidebars showing the key distinctions readers need to grasp on a particular subject, helpful charts and tables illuminating exegetical and historical topics, and questions at the end of each chapter for individual, classroom, and small group reflection. Pilgrim Theology will help undergraduate students of theology and educated laypersons gain an understanding of the Christian tradition's biblical and historical foundations.
- Publisher


Meet the Author
Michael S Horton
Michael Horton (PhD, Wycliffe Hall, Oxford, and the University of Coventry) is Professor of Apologetics and Theology at Westminster Theological Seminary, California. He is the author of a number of books including Covenant and Eschatology, The Divine Drama, Lord and Servant: A Covenant Christology, Covenant and Salvation: Union with Christ and most recently Christless Christianity:The Alternative Gospel of the American Church. A prolific author, he is also the host of The White Horse Inn, a nationally syndicated radio program, and editor of Modern Reformation magazine.
Koorong - Editorial Review.
Table Of Contents
Introduction

Part 1 Knowing God

Examines The Presuppositions Upon Which Christian Doctrine Is Built

Part 2 God Who Lives

Examines The Incommunicable And Communicable Attributes Of God And The Nature Of The Trinity

Part 3 God Who Creates

Examines The Doctrines Of Predestination, Creation, Providence, Humanity And The Fall

Part 4 God Who Rescues

Examines The Doctrine Of Christ

Part 5 God Who Reigns In Grace

Examines The Doctrines Of The Spirit, Union Of Christ, Hope Of Glory, Kingdom Of God, Baptism,

Lord's Supper And The Church

Part 6 God Who Reigns In Glory

Examines The Doctrines Of The Return Of Christ And The End Times