Pilgrim's Progress (New Amplified)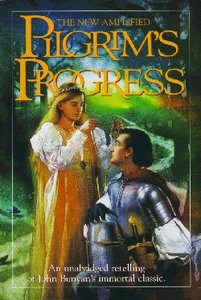 Exciting new levels of love and joy, hope and humor are skillfully woven by master storyteller Jim Pappas, into this enchanting retelling of John Bunyan's immortal classic! Designed to return this spellbinding masterpiece of angels and giants, castles and dragon, to the fireside of the everyday reader. Includes original illustrated artwork.

- Publisher John Bunyan's amazing Pilgrim's Progress is well into its fourth century of unparalleled popularity as the world's best-selling non-Biblical book in all history. Now in modern English comes The New Amplified Pilgrim's Progress. All of the age-old spiritual treasures that have made John Bunyan's original the world's best selling non-Biblical masterpiece in all of history are now carried to new heights of power and clarity in this new enhanced version. While this is perhaps the most adventure-filled and user-friendly adaptation ever penned, yet it is totally unabridged and, excepting certain amplified scenes, remains strictly faithful to Bunyan's original storyline.

- Publisher
You May Also Be Interested In
About "Pilgrim's Progress (New Amplified)"
Exciting new levels of love and joy, hope and humor are skillfully woven by master storyteller Jim Pappas, into this enchanting retelling of John Bunyan's immortal classic! Designed to return this spellbinding masterpiece of angels and giants, castles and dragon, to the fireside of the everyday reader. Includes original illustrated artwork.
- Publisher

John Bunyan's amazing Pilgrim's Progress is well into its fourth century of unparalleled popularity as the world's best-selling non-Biblical book in all history. Now in modern English comes The New Amplified Pilgrim's Progress. All of the age-old spiritual treasures that have made John Bunyan's original the world's best selling non-Biblical masterpiece in all of history are now carried to new heights of power and clarity in this new enhanced version. While this is perhaps the most adventure-filled and user-friendly adaptation ever penned, yet it is totally unabridged and, excepting certain amplified scenes, remains strictly faithful to Bunyan's original storyline.
- Publisher


Meet the Author
John Bunyan
John Bunyan (1628-1688) was born in Elstow, England, and his life was spared twice in his early years, something he believed God had done for a special purpose. In November 1660, when Bunyan arrived to preach in the little town of Lower Samsell, he was informed that a warrant had been issued for his arrest. Unwilling to denounce his Christian faith and his calling to the ministry, he was imprisoned for twelve years.
Among the many writings he published during his imprisonment are The Holy City; Grace Abounding to the Chief of Sinners; and the most famous, The Pilgrims Progress.
After his release, he became the pastor of a church in Bedord, England and continued to write and publish stirring works that have endured through time. Among these classics are The Holy War; Bunyan's Visions of Heaven and Hell and Journey to Hell: The Life and Death of Mr. Badman.
-Publisher.