Pioneering Movements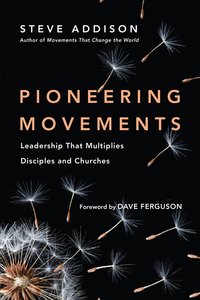 :God's mission needs movement leaders.Jesus pioneered something completely new in human history?a dynamic missionary movement intent on reaching the world. His mission is as clear and as relevant today as in the days of the early church: to make disciples everywhere, baptizing them and teaching them to obey everything Jesus has commanded. But the potential of the church remains untapped. What does it take to lead movements that successfully carry out this mission? In Pioneering Movements, Steve Addison identifies what it takes to follow Jesus' example. Building on his previous books Movements That Changed the World and What Jesus Started, he reveals the apostolic qualities and behaviors of biblical, historical, and contemporary pioneers who can guide church and ministry leaders today. This is a book for those who are called to embrace the mission-driven work that Jesus and his disciples began?making disciples of all nations, in all places.

- Publisher
You May Also Be Interested In
About "Pioneering Movements"
:God's mission needs movement leaders.Jesus pioneered something completely new in human history?a dynamic missionary movement intent on reaching the world. His mission is as clear and as relevant today as in the days of the early church: to make disciples everywhere, baptizing them and teaching them to obey everything Jesus has commanded. But the potential of the church remains untapped. What does it take to lead movements that successfully carry out this mission? In Pioneering Movements, Steve Addison identifies what it takes to follow Jesus' example. Building on his previous books Movements That Changed the World and What Jesus Started, he reveals the apostolic qualities and behaviors of biblical, historical, and contemporary pioneers who can guide church and ministry leaders today. This is a book for those who are called to embrace the mission-driven work that Jesus and his disciples began?making disciples of all nations, in all places.
- Publisher


Meet the Author
Steve Addison
Steve Addison has been a life-long student of movements that renew and expand the Christian faith. Steve distills the characteristics of dynamic movements and makes them available to leaders committed to the multiplication of disciple-making churches.Steve began his research into Christian movements in the late 1980s while serving as a church planter in Melbourne, Australia. He carried that interest into his Doctor of Ministry with Fuller Seminary.Steve currently serves as Director of Church Resource Ministries (CRM) Australia, a member of the CRM global community. CRM empowers leaders for the church.Steve loves walking, historical novels, Shakespeare, anything written by G K Chesterton or C S Lewis, Sunday afternoon naps, watching Australia beat the Poms at cricket, and supporting the Collingwood Football Club.
Table Of Contents
:introduction1. Movement Pioneers Lead From The Inside Out2. Jesus Our Apostle And Pioneer3. Peter, First Among The Apostlespioneer Profile: Hudson Taylor And The Second Era Of Protestant Missions4. Structuring For Movements5. No Place Left In South Asiapioneer Profile: William Taylor, Troublemaker And Bishop6. Five Levels Of Movement Leadershippioneer Profile: Victor Landero, Columbian Apostle7. No Place Left In America8. From Church To Movement9. No Place Left In The House Of Islam10. What Would It Take To Stop You?acknowledgmentsappendix: Discovery Bible Studybibliography