Planet Middle School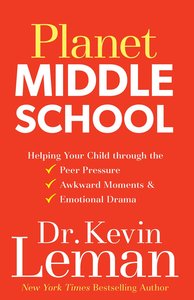 It happens to every parent. One day, you have a sweet son or daughter who loves to snuggle on the couch and who puts a smile on your face just by walking into the room. The next day, it's as if someone left the door open and let in an alien with a smart mouth and an attitude that, frankly, you could do without. Entering middle school is like stepping onto a different planet--for parent and child alike. It's a planet where peer pressure, social media, and hormones can wreak havoc in your child's life and in your relationship with him or her.

But these years don't have to create chaos in your family. Parenting expert and New York Times bestselling author Dr. Kevin Leman's time-tested principles will aid parents in helping their middle schooler not only survive but thrive during these turbulent years on Planet Middle School. He shows parents how to

- understand their child's rapidly expanding world
- respond rather than react to emotional swings
- tell their child about sex (before someone else tells them their version)
- create opportunities for their child to practice selflessness and gratitude
- ensure that their kid is one who loves home and family

Middle schoolers can be a weird, unpredictable species. But with a little help from Dr. Leman, parents will be able to ride out the interstellar storm with humor and confidence.

- Publisher
You May Also Be Interested In
About "Planet Middle School"
It happens to every parent. One day, you have a sweet son or daughter who loves to snuggle on the couch and who puts a smile on your face just by walking into the room. The next day, it's as if someone left the door open and let in an alien with a smart mouth and an attitude that, frankly, you could do without. Entering middle school is like stepping onto a different planet--for parent and child alike. It's a planet where peer pressure, social media, and hormones can wreak havoc in your child's life and in your relationship with him or her.

But these years don't have to create chaos in your family. Parenting expert and New York Times bestselling author Dr. Kevin Leman's time-tested principles will aid parents in helping their middle schooler not only survive but thrive during these turbulent years on Planet Middle School. He shows parents how to

- understand their child's rapidly expanding world
- respond rather than react to emotional swings
- tell their child about sex (before someone else tells them their version)
- create opportunities for their child to practice selflessness and gratitude
- ensure that their kid is one who loves home and family

Middle schoolers can be a weird, unpredictable species. But with a little help from Dr. Leman, parents will be able to ride out the interstellar storm with humor and confidence.
- Publisher


Meet the Author
Kevin Leman
Dr. Kevin Leman, an internationally known psychologist, radio and television personality, and speaker, has taught and entertained audiences worldwide with his wit and commonsense psychology.

The best-selling and award-winning author has made house calls for hundreds of radio and television programs, including The View with Barbara Walters, The Today Show, Oprah, CBS's The Early Show, Live with Regis Philbin, CNN's American Morning, and LIFE Today with James Robison, and he has served as a contributing family psychologist to Good Morning America.

He is the founder and president of Couples of Promise, an organization designed and committed to helping couples remain happily married. Dr. Leman is also a charter faculty member of iQuestions.com.

He has written over 50 best-selling books about marriage and family issues, including The Birth Order Book and Sheet Music: Uncovering the Secrets of Sexual Intimacy in Marriage.

Dr. Leman was born in 1943 in Tucson, Arizona, and earned his degree in psychology from the University of Arizona. He and his wife, Sande, make their home in Tucson. They have been married since 1967, and have five adult children.