Playing (Compass: Christian Explorations Of Daily Living Series)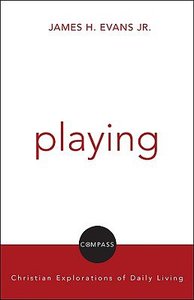 Evans recovers play as a subversive and even revolutionary activity, a practice of faith that gives life in the midst of structures and authorities that suffocate. In this study, Jesus becomes the political, cultural and religious player who redeems by changing the game so that it no longer excludes, but instead gives life. God creates us for freedom in a field of play. The Spirit summons us toward God's Reign where the freedom of play never ends. Playing, in this view, is hardly frivolous, but the pulse of life itself.

- Publisher
You May Also Be Interested In
About "Playing (Compass: Christian Explorations Of Daily Living Series)"
Evans recovers play as a subversive and even revolutionary activity, a practice of faith that gives life in the midst of structures and authorities that suffocate. In this study, Jesus becomes the political, cultural and religious player who redeems by changing the game so that it no longer excludes, but instead gives life. God creates us for freedom in a field of play. The Spirit summons us toward God's Reign where the freedom of play never ends. Playing, in this view, is hardly frivolous, but the pulse of life itself.
- Publisher


Meet the Authors
James H Evans (Jr)
JAMES H. EVANS, JR., is Marin Luther King, Jr., Memorial Professor of Theology and Black Church Studies at Colgate Rochester Divinity School/Bexley Hall/Crozer Theological Seminary in Rochester, New York. A
David H Jensen
David H. Jensen (Ph.D., Vanderbilt University) is Professor of Constructive Theology at Austin Presbyterian Theological Seminary. He has published several articles in the area of interreligious dialogue, and in his first book, In the Company of Others: A Dialogical Christology (Pilgrim Press, 2001), Jensen sets forth a christology that encourages dialogue among Christians and people of other faith traditions. His latest books include Graced Vulnerability: A Theology of Childhood (Pilgrim Press, 2005); Responsive Labor: A Theology of Work ( Westminster John Knox, 2006), and The Lord and Giver of Life: Perspectives in Constructive Pneumatology (Westminster John Knox, 2008) for which he was the editor. He is currently writing two book manuscripts. One is a short introduction to Christian hope and the other a theology of human sexuality
Koorong-Editorial Review.
Other Titles In The "Compass: Christian Explorations Of Daily Living Series" Series View All