Positive Thinking Every Day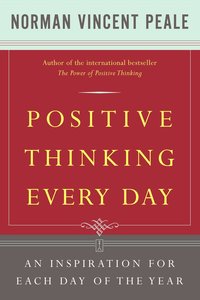 Compiling the wisdom of nine books-including international bestseller The Power of Positive Thinking-this timeless classic provides readers with a daily message of inspiration and affirmation from Norman Vincent Peale.

Norman Vincent Peale's philosophy of positive thinking has had an unprecedented influence on millions of people throughout the world. Now, the wisdom of nine books-including The Power of Positive Thinking-can be found within these pages. Timeless in their message, invaluable in the course of daily life, Dr. Peale's classic books provide inspiration when you most need it and lead the way to a fuller, happier, more satisfying life. With a new introduction by Dr. Peale, Positive Thinking Every Day will help make your every day the best it can possibly be.

- Publisher
Also Available In
You May Also Be Interested In
About "Positive Thinking Every Day"
Compiling the wisdom of nine books-including international bestseller The Power of Positive Thinking-this timeless classic provides readers with a daily message of inspiration and affirmation from Norman Vincent Peale.

Norman Vincent Peale's philosophy of positive thinking has had an unprecedented influence on millions of people throughout the world. Now, the wisdom of nine books-including The Power of Positive Thinking-can be found within these pages. Timeless in their message, invaluable in the course of daily life, Dr. Peale's classic books provide inspiration when you most need it and lead the way to a fuller, happier, more satisfying life. With a new introduction by Dr. Peale, Positive Thinking Every Day will help make your every day the best it can possibly be.
- Publisher


Meet the Author
Norman Vincent Peale
Clergyman and author Norman Vincent Peale was born in Bowersville, Ohio, on May 31, 1898. He was ordained into the Methodist Episcopal Church in 1922 and served as a pastor in a variety of churches in the eastern United States for the next decade. In 1932, he joined the Dutch Reformed Church and became the pastor of the Marble Collegiate Church, a post he would hold for more than fifty years. Peale's book, The Power of Positive Thinking, has sold more than fifteen million copies and been translated into forty languages. It helped create a viable market for self-help books. In addition to writing, he gave sermons on both television and radio and published Guideposts, a very successful weekly newsletter. He died on Christmas Eve, 1993.