Power in the Promises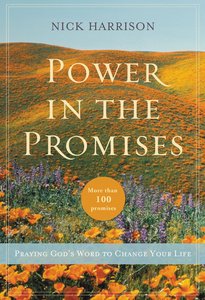 The concept is simple: Scripture has the power to change our lives. Affirming biblical truth is an important and profitable practice for Christians. In the Old Testament, David often instructed his soul on God's promises. And Paul, in the New Testament affirmed 'I can do all things through Christ who strengthens me.' Similarly, by using Power in the Promises you can claim the truth of Scripture for your own circumstances each day. This highly practical and biblical book is accessible and helpful to all who are seeking God's wisdom and truth for their life. Over 100 relevant subjects, dealing with nearly every emotional and life need, are addressed on one to two pages. Every topic opens with a powerful Bible verses to affirm, is followed by an inspiring devotion of God's promise and ends with a short prayer for God's help in living this truth. Author Nick Harrison calls on some heavyweight Christian men and women from the past and their wise words regarding the importance of the promises of God in their life and ministry. Notables include Charles Spurgeon, Dwight Moody, George Mueller, Hannah Whitall Smith, David Wilkerson, and more. You will find quick, readable, Biblical help for victorious daily living.

- Publisher
You May Also Be Interested In
About "Power in the Promises"
The concept is simple: Scripture has the power to change our lives. Affirming biblical truth is an important and profitable practice for Christians. In the Old Testament, David often instructed his soul on God's promises. And Paul, in the New Testament affirmed 'I can do all things through Christ who strengthens me.' Similarly, by using Power in the Promises you can claim the truth of Scripture for your own circumstances each day. This highly practical and biblical book is accessible and helpful to all who are seeking God's wisdom and truth for their life. Over 100 relevant subjects, dealing with nearly every emotional and life need, are addressed on one to two pages. Every topic opens with a powerful Bible verses to affirm, is followed by an inspiring devotion of God's promise and ends with a short prayer for God's help in living this truth. Author Nick Harrison calls on some heavyweight Christian men and women from the past and their wise words regarding the importance of the promises of God in their life and ministry. Notables include Charles Spurgeon, Dwight Moody, George Mueller, Hannah Whitall Smith, David Wilkerson, and more. You will find quick, readable, Biblical help for victorious daily living.
- Publisher


Meet the Author
Nick Harrison
Nick Harrison has authored the best-sellers 'Promises to Keep: Daily Devotions for Men Seekintg Integrity' and 365 WWJD: Daily Answers to 'What Would Jesus Do?', as well as 'His Victorious Indwelling.' Nick and his wife, Beverly, are the parents of three daughters and live in Eugene, Oregon.