Power Over the Enemy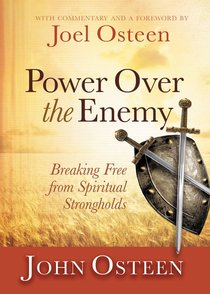 "Forgive one another lest Satan should take advantage of us; for we are not ignorant of his devices." 2 Corinthians 2:11

Today's Christians are largely ignorant of Satan's evil. It's why multitudes of Christians are tormented with fears, bound by addictions and sins, and torn by relationship problems. But God has given you the ultimate victory.

In this life-changing book, John Osteen teaches you how to have power over the enemy when the Tempter comes, how Jesus dealt with temptation, how to engage in spiritual warfare, how to demonstrate Satan's defeat, how to live a life of victory, and so much more.

Using practical, biblical knowledge of what you have through the great redemption in Jesus Christ and all that God has provided for you in His Word, power will come. As you become knowledgeable about the true supernatural power of God, you will rise to victory in every area of your life.



- Publisher
You May Also Be Interested In
About "Power Over the Enemy"
"Forgive one another lest Satan should take advantage of us; for we are not ignorant of his devices." 2 Corinthians 2:11

Today's Christians are largely ignorant of Satan's evil. It's why multitudes of Christians are tormented with fears, bound by addictions and sins, and torn by relationship problems. But God has given you the ultimate victory.

In this life-changing book, John Osteen teaches you how to have power over the enemy when the Tempter comes, how Jesus dealt with temptation, how to engage in spiritual warfare, how to demonstrate Satan's defeat, how to live a life of victory, and so much more.

Using practical, biblical knowledge of what you have through the great redemption in Jesus Christ and all that God has provided for you in His Word, power will come. As you become knowledgeable about the true supernatural power of God, you will rise to victory in every area of your life.


- Publisher


Meet the Author
John Osteen
John Osteen (1921-1999) was born in Paris, Texas in 1921. He was ordained as a Southern Baptist minister just before his 18th birthday. From 1949, Osteen was pastor at Central Baptist Church, Baytown, Texas, and during that time divorced his first wife, Emma Jean Shaffer. He married Dolores "Dodie" Pilgrim in 1954, and the following year resigned his pastorate. Osteen re-entered pastoral ministry at Hibbard Memorial Baptist Church, Houston, Texas, but left in 1958.

After undergoing 'baptism in the Holy Spirit' in 1959, Osteen founded Lakewood Church in an abandoned feed store in Houston, Texas. The membership of this phenomenally successful charismatic church would eventually grow to 15,000.

For many years, John Osteen encouraged his son Joel to preach, but Joel always declined, preferring to work behind the scenes. However, in early 1999 Joel felt compelled to accept his father's invitation and he preached his first sermon on January 17th of that year. Little did anyone know that would be the last Sunday of John Osteen's life - he died suddenly of a heart attack at age 77. Two weeks later, Joel began preaching regularly and later that year was installed as the new Senior Pastor of Lakewood Church.