Practical Theology For Women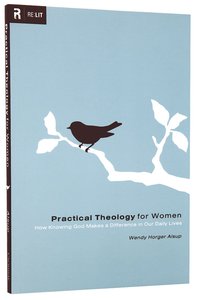 $

18.99

$

15.19
You Save: $3.80 (20%)
Paperback
This resource presents the power of theology while exhorting women to apply what they believe about God in the middle of life's daily battles. Women in evangelical churches believe in God. However, when they are faced with life's battles - financial problems, job loss, serious illness - they begin to question the God they know. "Can he really provide for my family?" "Can I truly trust him to get me through this crisis?" If such a woman is not grounded in her knowledge of God, the battles she faces threaten to shatter her wavering faith. Wendy Horger Alsup recognizes such dangers. In Practical Theology for Women, Alsup uses the power of theology to address practical issues in women's lives. Her book opens with a general discussion of theology and addresses the most fundamental and practical issue of theology: faith. Then she explores the attributes of God the Father, Son, and Spirit from Scripture, concluding with a look at our means of communicating with God - prayer and the Word.



- Publisher My dear friend Wendy has trained thousands of women in practical theology through her teaching ministry. I am delighted to see her helpful wisdom now being made available to many more women through this book." Mark Driscoll, Pastor and Founder, Mars Hill Church; President, Acts 29 Church Planting Network; President, ResurgenceHave you ever wanted to understand the deep things of the Word but been put off by the intimidating vocabulary of theologians? Have you assumed that studying the attributes of God is for seminary students only? Or maybe "just for men"? Have heavy doctrinal themes felt beyond you and your everyday world? If so-if yours"ve ever thought theology was too deep, too impractical, or too irrelevant for your life as a woman-this book is for you.As author Wendy Alsup explores fundamental theological issues yours"ve always wondered about-minus the daunting vocabulary and complex sentence structure of academic tomes-she brings them into real life... into your world... and reveals the heart of true theology. Itrs"s really about "simple yet incredibly profound stuff that affects our daily lives," she says. Stuff like faith and gaining a right knowledge of God as the foundation for wise daily living.Alsup writes: "Truly, there is nothing like a good grasp of accurate knowledge about God to enable you to meet the practical demands of your life-the practical demands of being a daughter, mother, wife, sister, or friend." LetPractical Theology for Womenshow you the everyday difference that knowing God makes.

- Publisher
You May Also Be Interested In
About "Practical Theology For Women"
This resource presents the power of theology while exhorting women to apply what they believe about God in the middle of life's daily battles. Women in evangelical churches believe in God. However, when they are faced with life's battles - financial problems, job loss, serious illness - they begin to question the God they know. "Can he really provide for my family?" "Can I truly trust him to get me through this crisis?" If such a woman is not grounded in her knowledge of God, the battles she faces threaten to shatter her wavering faith. Wendy Horger Alsup recognizes such dangers. In Practical Theology for Women, Alsup uses the power of theology to address practical issues in women's lives. Her book opens with a general discussion of theology and addresses the most fundamental and practical issue of theology: faith. Then she explores the attributes of God the Father, Son, and Spirit from Scripture, concluding with a look at our means of communicating with God - prayer and the Word.


- Publisher

My dear friend Wendy has trained thousands of women in practical theology through her teaching ministry. I am delighted to see her helpful wisdom now being made available to many more women through this book." Mark Driscoll, Pastor and Founder, Mars Hill Church; President, Acts 29 Church Planting Network; President, ResurgenceHave you ever wanted to understand the deep things of the Word but been put off by the intimidating vocabulary of theologians? Have you assumed that studying the attributes of God is for seminary students only? Or maybe "just for men"? Have heavy doctrinal themes felt beyond you and your everyday world? If so-if yours"ve ever thought theology was too deep, too impractical, or too irrelevant for your life as a woman-this book is for you.As author Wendy Alsup explores fundamental theological issues yours"ve always wondered about-minus the daunting vocabulary and complex sentence structure of academic tomes-she brings them into real life... into your world... and reveals the heart of true theology. Itrs"s really about "simple yet incredibly profound stuff that affects our daily lives," she says. Stuff like faith and gaining a right knowledge of God as the foundation for wise daily living.Alsup writes: "Truly, there is nothing like a good grasp of accurate knowledge about God to enable you to meet the practical demands of your life-the practical demands of being a daughter, mother, wife, sister, or friend." LetPractical Theology for Womenshow you the everyday difference that knowing God makes.
- Publisher


Meet the Author
Wendy Horger Alsup
WENDY HORGER ALSUPenjoys teaching theology to hundreds of women. Alsup resides in Seattle with her husband, Andy, and two young children.
Customer Reviews For "Practical Theology For Women"
Write Your Own Review
A great solid book
By Ashley,

Feb 07 2013
Theology isn't just for scholars or pastors - we all have equal access to God through Jesus Christ! 
Alsup biblically examines the character of God and applies these characteristics to us in regard to our responses in life - if we know God is Sovereign and in control, then why do we worry? If we know he is Just and Loving, why are we so quick to judge others? 
Alsup also uses her own life experiences as an encouragement to readers and to help link biblical theology to everyday life. 
This book is easy to read and gives definitions to all those words we use but never really know how to defne (eg. sanctify, glorify). 
This book would be perfect for a woman who has just come to Christ or one that wants to know more about God as reflected in the Bible, however if you are looking for a book deep in theology, this may be too basic for you.  
 
{{review.title}}
By {{review.author.name}},

{{review.reviewCreatedDate | date:'MMM dd yyyy'}}

{{reviewdescription}}
{{review.text}}
---