Practicing the Way of Jesus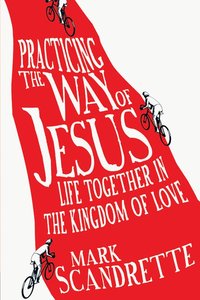 Take a casual survey of how people practice their faith, and you might reasonably conclude that Jesus spent his life going door to door offering private lessons, complete with chalkboard and pop quizzes. We think about God in the comfort of our own minds, in isolation from one another; meanwhile the world waits for a people to practice the way of Jesus together. Mark Scandrette contends that Jesus has in mind something more lively for us: not a classroom so much as a kingdom, where our formation takes place not only in our heads but in our hearts and our bodies, and in the company of one another, in a way that blesses the world we've been entrusted with. In Practicing the Way of Jesus Scandrette draws from his experience as a spiritual director and leader of an intentional community, as well as the best contemporary thinking on kingdom spirituality, to paint a picture of life lived together, in the way of Jesus--which is another way of saying life lived to the full.

- Publisher
You May Also Be Interested In
About "Practicing the Way of Jesus"
Take a casual survey of how people practice their faith, and you might reasonably conclude that Jesus spent his life going door to door offering private lessons, complete with chalkboard and pop quizzes. We think about God in the comfort of our own minds, in isolation from one another; meanwhile the world waits for a people to practice the way of Jesus together. Mark Scandrette contends that Jesus has in mind something more lively for us: not a classroom so much as a kingdom, where our formation takes place not only in our heads but in our hearts and our bodies, and in the company of one another, in a way that blesses the world we've been entrusted with. In Practicing the Way of Jesus Scandrette draws from his experience as a spiritual director and leader of an intentional community, as well as the best contemporary thinking on kingdom spirituality, to paint a picture of life lived together, in the way of Jesus--which is another way of saying life lived to the full.
- Publisher


Meet the Author
Mark Scandrette
Mark Scandrette (www.markscandrette.com) is the author of Soul Graffitti: Making a Life in the Way of Jesus (Jossey-Bass, 2007) and Practicing the Way of Jesus: Life Together in the Kingdom of Love (InterVarsity Press, 2011) and the executive director and cofounder of ReIMAGINE (www.reimagine.org), a center for spiritual formation in San Francisco that sponsors city-based learning initiatives, peer learning groups, and The Jesus Dojo, a year-long intensive formation process inspired by the life and teachings of Jesus. Mark is a founding member of SEVEN, a monastic community working as advocates for holistic and integrative Christian spirituality. Mark is also a senior fellow with Emergent (www.emergentvillage.com), a growing generative friendship among missional Christian leaders.