Prairie Rose / Prairie Fire / Prairie Storm (Town Called Hope Series)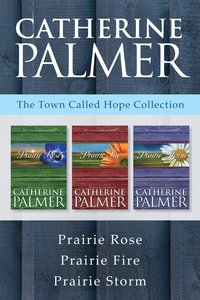 This collection bundles all three titles from beloved author Catherine Palmer's charming Town Called Hope series into one volume for a great value!
#1 Prairie Rose
Hope and love blossom on the untamed prairie as a young woman searching for a place to call home happens upon a Kansas homestead during the 1860s ... A Town Called Hope, the inspiring series set in post-Civil War Kansas, is the creation of best-selling romance writer Catherine Palmer. In the fast-paced Prairie Rose, impulsive nineteen-year-old Rosie Mills takes a job caring for the young son of widowed homesteader Seth Hunter in order to escape the orphanage in which she was raised. Rosie's naive view of love and her understanding of what it means to have a Father in heaven are quickly put to the test. Afraid of being wounded again, Seth struggles to freely open his heart-to his hurting son, to a woman's love, and to a Father who will not abandon him. Together Rosie and Seth must face the harsh uncertainties of prairie life-and the one man who threatens to destroy their happiness.

Prairie Rose launches a series sure to satisfy readers who expect solid biblical values in a wholesome, exhilarating romance.

#2 Prairie Fire
1998 HOLT Medallion finalist! / 1998 finalist for Romantic Times Reviewers Choice!
The fictional town of Hope discovers the importance of forgiveness, overcoming prejudice, and the dangers of keeping unhealthy family secrets.

Jack Cornwall lost everything during the Civil War, so when his beloved nephew Chipper is reclaimed by his father, Cornwall vows revenge on the man who took away his last link with the past. Arriving in the town of Hope, Jack finds Chipper happy in his new family. Caitrin Murphy, a cheerful Irish immigrant, helps him realizes that taking Chipper away would be cruel. Unfortunately, few townspeople trust Jack, and even Caitrin is reluctant to encourage their romance because of Jack's lack of faith. Jack soon realizes that serious changes are needed before he can be truly happy.

#3 Prairie Storm
After a diphtheria epidemic takes the lives of both her husband and daughter, Lily Nolan continues her work in a traveling medicine show. When the troupe arrives in the small town of Hope, KS, in 1866, Lily encounters Elijah Book, a preacher caring for an orphaned baby, and agrees to look after the child. Although attracted to the kindly Elijah, Lily distrusts him because of the childhood abuse she suffered at the hands of her preacher father.

Prairie Storm, by award-winning author Catherine Palmer, is the third book in the series A Town Called Hope. Continuing the saga of the Kansas town, Palmer teaches readers that God's wonderful plan for each of us includes peace and healing, even amidst the storms of life. A must-have for all Palmer fans as well as for anyone whose faith has been challenged by adversity.

- Publisher
You May Also Be Interested In
About "Prairie Rose / Prairie Fire / Prairie Storm (Town Called Hope Series)"
This collection bundles all three titles from beloved author Catherine Palmer's charming Town Called Hope series into one volume for a great value!
#1 Prairie Rose
Hope and love blossom on the untamed prairie as a young woman searching for a place to call home happens upon a Kansas homestead during the 1860s ... A Town Called Hope, the inspiring series set in post-Civil War Kansas, is the creation of best-selling romance writer Catherine Palmer. In the fast-paced Prairie Rose, impulsive nineteen-year-old Rosie Mills takes a job caring for the young son of widowed homesteader Seth Hunter in order to escape the orphanage in which she was raised. Rosie's naive view of love and her understanding of what it means to have a Father in heaven are quickly put to the test. Afraid of being wounded again, Seth struggles to freely open his heart-to his hurting son, to a woman's love, and to a Father who will not abandon him. Together Rosie and Seth must face the harsh uncertainties of prairie life-and the one man who threatens to destroy their happiness.

Prairie Rose launches a series sure to satisfy readers who expect solid biblical values in a wholesome, exhilarating romance.

#2 Prairie Fire
1998 HOLT Medallion finalist! / 1998 finalist for Romantic Times Reviewers Choice!
The fictional town of Hope discovers the importance of forgiveness, overcoming prejudice, and the dangers of keeping unhealthy family secrets.

Jack Cornwall lost everything during the Civil War, so when his beloved nephew Chipper is reclaimed by his father, Cornwall vows revenge on the man who took away his last link with the past. Arriving in the town of Hope, Jack finds Chipper happy in his new family. Caitrin Murphy, a cheerful Irish immigrant, helps him realizes that taking Chipper away would be cruel. Unfortunately, few townspeople trust Jack, and even Caitrin is reluctant to encourage their romance because of Jack's lack of faith. Jack soon realizes that serious changes are needed before he can be truly happy.

#3 Prairie Storm
After a diphtheria epidemic takes the lives of both her husband and daughter, Lily Nolan continues her work in a traveling medicine show. When the troupe arrives in the small town of Hope, KS, in 1866, Lily encounters Elijah Book, a preacher caring for an orphaned baby, and agrees to look after the child. Although attracted to the kindly Elijah, Lily distrusts him because of the childhood abuse she suffered at the hands of her preacher father.

Prairie Storm, by award-winning author Catherine Palmer, is the third book in the series A Town Called Hope. Continuing the saga of the Kansas town, Palmer teaches readers that God's wonderful plan for each of us includes peace and healing, even amidst the storms of life. A must-have for all Palmer fans as well as for anyone whose faith has been challenged by adversity.
- Publisher


Meet the Author
Catherine Palmer
Catherine Palmer has published more than 40 novels, most of them national best-sellers. Cathrine has won numerous awards for her writing, including the Christy Award - the highest honour in Christian fiction - for A Touch of Betrayal. In 2204 she was given the Career Achievement Award for inspirational romance by Romantic Times Book Reviews magazine. More than two million copies of her novels are currenly in prints. She lives in Missouri with her husband and two sons. She is a graduate of Southwest Baptist University and has a masters degree in English from Baylor University. - Publisher.
Customer Reviews For "Prairie Rose / Prairie Fire / Prairie Storm (Town Called Hope Series)"
Write Your Own Review
Prairie series
By dawn hale,

Jun 21 2018
These 3 books  were so uplifting with all the scripture quotes.  how to face lifes everyday  difficulties with help from God's word.  people making a new life for themselves after the war in the arid prairie.  dependant on the Lord shows faith at work.   I recommend this series for reading. Town called  Hope.
---
Great reading
By Shelley,

Jun 06 2018
This is the first time I have read anything by Catherine Palmer. I was so thrilled to discover another terrific author to add to my list of favourites. I enjoyed the first two books in this trilogy most of all but the whole series is very enjoyable.
{{review.title}}
By {{review.author.name}},

{{review.reviewCreatedDate | date:'MMM dd yyyy'}}

{{reviewdescription}}
{{review.text}}
---
Other Titles In The "Town Called Hope" Series