Pray For the World (Abridged Version Of The 7th Edition)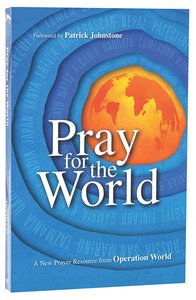 :For decades,
Operation World
has been the world's leading resource for people who want to impact the nations for Christ through prayer. Its twofold purpose has been to inform for prayer and to mobilize for mission. Now the research team of
Operation World
offers
Pray for the World,
an accessible resource to facilitate prayer for the nations even more.The
Operation World
researchers asked Christian leaders in every country, "How should the body of Christ throughout the world be praying for your country?" Their responses provide the prayer points in this book, with specific ways your prayers can aid the global church. When you hear a country mentioned in the news, look it up in
Pray for the World
to learn more about it and discover what God is doing there. Each entry includes:
Timely challenges for prayer and specific on-the-ground reports of answers to prayer
Population, people group and language statistics
Charts and maps showing global religious and demographic trends
Updates on church growth, with a focus on evangelicals
Explanations of major currents in economics, politics and society
Join millions of praying people around the world. Hear God's call to global mission. And watch the world change.
- Publisher
You May Also Be Interested In
About "Pray For the World (Abridged Version Of The 7th Edition)"
:For decades, Operation World has been the world's leading resource for people who want to impact the nations for Christ through prayer. Its twofold purpose has been to inform for prayer and to mobilize for mission. Now the research team of Operation World offers Pray for the World, an accessible resource to facilitate prayer for the nations even more.The Operation World researchers asked Christian leaders in every country, "How should the body of Christ throughout the world be praying for your country?" Their responses provide the prayer points in this book, with specific ways your prayers can aid the global church. When you hear a country mentioned in the news, look it up in Pray for the World to learn more about it and discover what God is doing there. Each entry includes:
Timely challenges for prayer and specific on-the-ground reports of answers to prayer
Population, people group and language statistics
Charts and maps showing global religious and demographic trends
Updates on church growth, with a focus on evangelicals
Explanations of major currents in economics, politics and society
Join millions of praying people around the world. Hear God's call to global mission. And watch the world change.
- Publisher


Meet the Authors
Jason Mandryk
Jason Mandryk is Co-Editor, Operation World /WEC, Gerrards Cross, UK
Table Of Contents
:index Of Countriesforewordacknowledgements Preface

introduction
Introductionthe Ethos Of Operation Worldhow To Use pray For The World

Explanation Of Sources, Statistics, And Abbreviationsdaily Prayer Calendar

the World And Its Regions

The Worldafrica Region Overviewthe Countries Of Africathe Americas Region Overviewthe Countries Of The Americasasia Region Overviewthe Countries Of Asiaeurope Region Overviewthe Countries Of Europepacific The Countries Of The Pacific

appendices

Appendix 1: Global Facts And Figuresappendix 2: Further Prayer Informationappendix 3: Further Mission Informationappendix 4: Definitions