Prayer Storm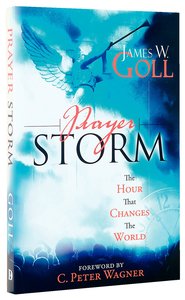 Prayer Storm places you on the spiritual battlefield, shoulder-to-shoulder with God. Without a concerted storm of prayer-around the clock and around the globe-there will be no revival.

Prompted by a "commissioning dream" from God, author James Goll updated the centuries-old prayer model of the Moravians and lays out a plan for today's believers-an Internet-based community of intercessors who commit to pray one hour per week.

You will have a worldwide impact as you discover the power of Prayer Storm. As a prayer stormer your voice joins the symphony of worshipers and pray-ers committed to:

* Stirring up revival.
* Saving our youth.
* Loving Israel to life.

In this first book in the Prayer Storm series, you will be emboldened to make a positive difference in your nation, community, and family. Prayer Storm, along with an exciting separate study guide, clearly gives you the insights you need to stir up your own prayer storm.

You are invited to take part in an international Internet virtual house of prayer that will change the world for the glory of God!



- Publisher Updating the model of the Moravians in Germany two centuries ago, Goll lays out a plan for around-the-clock prayer: an Internet-based community of intercessors who commit to pray one hour per week of revival in the church, youth awakening, Israel, and major crises.

- Publisher
You May Also Be Interested In
About "Prayer Storm"
Prayer Storm places you on the spiritual battlefield, shoulder-to-shoulder with God. Without a concerted storm of prayer-around the clock and around the globe-there will be no revival.

Prompted by a "commissioning dream" from God, author James Goll updated the centuries-old prayer model of the Moravians and lays out a plan for today's believers-an Internet-based community of intercessors who commit to pray one hour per week.

You will have a worldwide impact as you discover the power of Prayer Storm. As a prayer stormer your voice joins the symphony of worshipers and pray-ers committed to:

* Stirring up revival.
* Saving our youth.
* Loving Israel to life.

In this first book in the Prayer Storm series, you will be emboldened to make a positive difference in your nation, community, and family. Prayer Storm, along with an exciting separate study guide, clearly gives you the insights you need to stir up your own prayer storm.

You are invited to take part in an international Internet virtual house of prayer that will change the world for the glory of God!


- Publisher

Updating the model of the Moravians in Germany two centuries ago, Goll lays out a plan for around-the-clock prayer: an Internet-based community of intercessors who commit to pray one hour per week of revival in the church, youth awakening, Israel, and major crises.
- Publisher


Meet the Author
James W Goll
James W. Goll is the cofounder of Encounter Network, a ministry to the nations. He has written fifteen extensive Bible study guides and is the author or co-author of nearly a dozen books, including Kneeling on the Promises,The Coming Prophetic Revolution and Praying for Israel's Destiny. Goll is a contributing editor to Kairos magazine and speaks and ministers around the world. He and his wife, Michal Ann, live in Franklin, Tennessee.