Prayer (The Indispensable Guide To Practically Everything Series)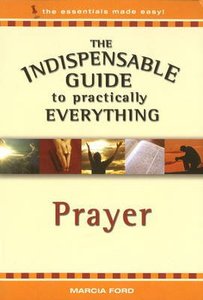 All the essential information about prayer in an organised, engaging, and easy-to-read book. With more facts and less fluff, The Indispensable Guide to Practically Everything: Prayer puts at readers' fingertips all the need-to-know information about prayer. As our lifeline to God, prayer sustains us, brings us insight, and always offers answers. Common questions about prayer, how to overcome our struggles in prayer, and famous prayers and their prayers are explored in this enriching book. Also included is a guide on how to pray for different needs. As part of a series of Indispensable Guides, this book offers readers fast, easy-to-find information that will bring clarity and confidence to their understanding of their faith.

- Publisher
You May Also Be Interested In
About "Prayer (The Indispensable Guide To Practically Everything Series)"
All the essential information about prayer in an organised, engaging, and easy-to-read book. With more facts and less fluff, The Indispensable Guide to Practically Everything: Prayer puts at readers' fingertips all the need-to-know information about prayer. As our lifeline to God, prayer sustains us, brings us insight, and always offers answers. Common questions about prayer, how to overcome our struggles in prayer, and famous prayers and their prayers are explored in this enriching book. Also included is a guide on how to pray for different needs. As part of a series of Indispensable Guides, this book offers readers fast, easy-to-find information that will bring clarity and confidence to their understanding of their faith.
- Publisher


Meet the Author
Marcia Ford
Marcia Ford is a former religion editor for The Ashbury Park Press, associate editor of Charisma magazine, and editor of Christian Retailing. But she describes herself as mostly, I'm a book author, with 18 traditionally published books. I'm also a ghostwriter, though of course I can't talk specifically about those books; let's just say that I've ghostwritten or contributed to 12 additional books. I'm also a book editor, book reviewer, writing instructor, writing mentor, and journalist. I'm married with two adult daughters, and I have a special interest in postmodern spirituality.
Other Titles In The "The Indispensable Guide To Practically Everything" Series View All