Prayers and Promises For Worried Parents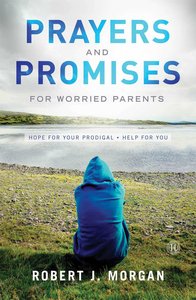 Are you waiting for God to work his plan in your child's life? This inspirational collection of powerful stories and prayers offers comforting advice to concerned moms and dads. Countless parents feel helpless and lost when their teenage or young adult children fall into destructive lifestyles and walk away from the principles they were raised with. Distressed and wearied, moms and dads often feel they've tried everything: begging, praying, arguing, reasoning, making rules, and setting boundaries. But nothing works. What more can they do? Just accept it? Pastor and father Rob Morgan sympathizes with these parents, and in this powerful and hopeful book, he offers more than 100 readings to uplift and encourage them. Through Scripture-based prayers, excerpts from classical literature, brief messages, hopeful quotes, personal stories, and more, he speaks the language of hurting parents and offers the spiritual and practical help they need. Divided into eleven sections, each offering different methods of hope and healing, Prayers and Promises for Worried Parents shows parents how to intercede more effectively for their children, deal with worry and anxiety, and face difficult questions, such as: What do we do when God doesn't answer our prayers? What did Jesus do when he had trouble with his children? How can we best reach out to our prodigal sons and daughters? Full of powerful messages and answered prayers, this inspirational guide shows you what you can do while waiting for God to work in your children's lives.

- Publisher
You May Also Be Interested In
About "Prayers and Promises For Worried Parents"
Are you waiting for God to work his plan in your child's life? This inspirational collection of powerful stories and prayers offers comforting advice to concerned moms and dads. Countless parents feel helpless and lost when their teenage or young adult children fall into destructive lifestyles and walk away from the principles they were raised with. Distressed and wearied, moms and dads often feel they've tried everything: begging, praying, arguing, reasoning, making rules, and setting boundaries. But nothing works. What more can they do? Just accept it? Pastor and father Rob Morgan sympathizes with these parents, and in this powerful and hopeful book, he offers more than 100 readings to uplift and encourage them. Through Scripture-based prayers, excerpts from classical literature, brief messages, hopeful quotes, personal stories, and more, he speaks the language of hurting parents and offers the spiritual and practical help they need. Divided into eleven sections, each offering different methods of hope and healing, Prayers and Promises for Worried Parents shows parents how to intercede more effectively for their children, deal with worry and anxiety, and face difficult questions, such as: What do we do when God doesn't answer our prayers? What did Jesus do when he had trouble with his children? How can we best reach out to our prodigal sons and daughters? Full of powerful messages and answered prayers, this inspirational guide shows you what you can do while waiting for God to work in your children's lives.
- Publisher


Meet the Author
Robert J Morgan
Robert J. Morgan is a Gold Medallion Award-winning author and has served as pastor of The Donelson Fellowship in Nashville, Tennessee, for nearly thirty years. He holds degrees from Columbia International University (BS), Wheaton Graduate School (MA), and Luther Rice Seminary (M.Div.).
His books include Then Sings My Soul (Volumes 1 and 2); Nelson's Annual Preacher's Sourcebook; Nelson's Complete Book of Stories, Illustrations, and Quotes; The Promise; My All in All; and The Red Sea Rules. Rob and his wife have three daughters and nine grandchildren.