Prayers That Heal the Heart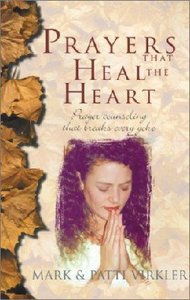 In this book you will learn a counselling approach in a ministry of prayer that uses seven specific prayers:

- Breaking generational sins and curses
- Severing ungodly ties of the soul
- Replacing negative expectations
- Renouncing inner vows
- Receiving divine pictures/visions
- Casting out demons
- Experiencing the Spirit of life in Christ Jesus

You'll thoroughly process one issue at a time, utilising all these prayers. The "Contributing Strands Worksheet" will help you easily work through the prayers by yourself or with a counsellor.

- Publisher 352 Pages

- Publisher
You May Also Be Interested In
About "Prayers That Heal the Heart"
In this book you will learn a counselling approach in a ministry of prayer that uses seven specific prayers:

- Breaking generational sins and curses
- Severing ungodly ties of the soul
- Replacing negative expectations
- Renouncing inner vows
- Receiving divine pictures/visions
- Casting out demons
- Experiencing the Spirit of life in Christ Jesus

You'll thoroughly process one issue at a time, utilising all these prayers. The "Contributing Strands Worksheet" will help you easily work through the prayers by yourself or with a counsellor.
- Publisher

352 Pages
- Publisher


Meet the Authors
Mark Virkler
MARK AND PATTI VIRKLER have been married and dedicated to full-time ministry since 1972. Both received their Bachelor degrees from Roberts Wesleyan College and have also earned Master and Doctoral degrees. Together they have co-authored more than 60 lamad-style books in the areas of hearing God's voice and Spirit-anointed living.