Prayerstreaming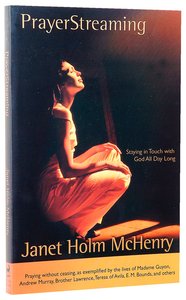 Tap into history's best spiritual wisdom regarding prayer, and pray your way through the day.

More than two thousand years ago Jesus taught about the importance of prayer, and the apostle Paul urged Christians to "pray without ceasing". Yet a rewarding prayer life seems almost impossible for those of us juggling busy schedules, family needs, friendships, home tasks, or a demanding job. We'd love to engage constantly with God - such as when we're working, driving carpool, or folding socks. But how can we when we spend so much of our time just racing from one thing to another?

The author of three other books of prayer, Janet Holm McHenry set out on a personal journey to learn how to draw even closer to God through this crucial spiritual discipline. Her findings led to PRAYERSTREAMING, a life-changing guide to praying through the clutter and clatter of everyday life.

Drawing from eight of the most respected and time-tested spiritual classics on the subject of prayer, as well as personal experiences of deepened intimacy with God, Janet Holm McHenry illustrates that incorporating prayer into the rhythms of life is in fact far easier than you think - and more beneficial than you could ever dream.


- Publisher Teaches readers how to pray through the clutter and clatter of everyday life.

- Publisher Praise for "PrayerStreaming "Janet McHenry not only writes about prayer, she pursues it as a lifestyle and makes me hungry for the same. PrayerStreaming is a collection of beautiful jewels, truths, and lessons gleaned by those who have walked the path of unceasing prayer. It is a resource to turn back to time and time again for inspiration and direction." - Joanna Weaver, author of "Having a Mary Heart in a Martha World "After reading Janet Holm McHenry's book, "PrayerStreaming, I see more clearly what it means to 'pray without ceasing.' It is not about certain words or spiritual tools or even a quiet place. It's about laying our tasks and our lives before God each day, then asking for his presence and guidance. The book is an inspiring blend of Scripture, examples from real life, and teachings from the great prayer warriors of the past, including Brother Lawrence, Teresa of Avila, and Andrew Murray. Highly recommended." -Karen O'Connor, speaker and author of "Addicted to Shopping and Other Issues Women Have With Money and "Help, Lord! I'm Having a Senior Moment AGAIN "If you want to stay connected to God throughout your day, there is no better book to instruct you than "PrayerStreaming. I'm convinced that my moment-by-moment relationship with God will forever be different because of the time I spent with this engaging book." -Dr. Mell Winger, pastor of prayer at New Life Church, Colorado Springs, CO, editor of "Fight on Your Knees, co-editor of "The Transforming Power of Revival "Walking in the presence of the Lord with every breath we take is what every Christian's heart longs for, yet it seems unattainable. "PrayerStreaming offers fresh insight andpractical help for hungry souls seeking to spend time in God's presence 24/7. Janet Holm McHenry has digested the prayer classics to bring us spiritual nuggets from those who best learned to walk closely with God. You'll literally feel you're sitting at the feet of praying saints of old as they share with you their secrets to a successful prayer life. Within the pages of this book, you'll find the kindling wood to set your heart ablaze with a fire that never goes out." -Cheryl Sacks, author of "The Prayer Saturated Church, co-founder, BridgeBuilders Int'l Leadership Network "Janet Holm McHenry gives clear and wise direction for those who long to pray without ceasing. This book will open your eyes to the hidden power of living in a flow of prayer that never stops. It will change the way you view prayer." -Jennifer Kennedy Dean, executive director of The Praying Life Foundation, author of numerous books, including "Live a Praying Life and "Fueled by Faith

- Publisher
You May Also Be Interested In
About "Prayerstreaming"
Tap into history's best spiritual wisdom regarding prayer, and pray your way through the day.

More than two thousand years ago Jesus taught about the importance of prayer, and the apostle Paul urged Christians to "pray without ceasing". Yet a rewarding prayer life seems almost impossible for those of us juggling busy schedules, family needs, friendships, home tasks, or a demanding job. We'd love to engage constantly with God - such as when we're working, driving carpool, or folding socks. But how can we when we spend so much of our time just racing from one thing to another?

The author of three other books of prayer, Janet Holm McHenry set out on a personal journey to learn how to draw even closer to God through this crucial spiritual discipline. Her findings led to PRAYERSTREAMING, a life-changing guide to praying through the clutter and clatter of everyday life.

Drawing from eight of the most respected and time-tested spiritual classics on the subject of prayer, as well as personal experiences of deepened intimacy with God, Janet Holm McHenry illustrates that incorporating prayer into the rhythms of life is in fact far easier than you think - and more beneficial than you could ever dream.

- Publisher

Teaches readers how to pray through the clutter and clatter of everyday life.
- Publisher

Praise for "PrayerStreaming "Janet McHenry not only writes about prayer, she pursues it as a lifestyle and makes me hungry for the same. PrayerStreaming is a collection of beautiful jewels, truths, and lessons gleaned by those who have walked the path of unceasing prayer. It is a resource to turn back to time and time again for inspiration and direction." - Joanna Weaver, author of "Having a Mary Heart in a Martha World "After reading Janet Holm McHenry's book, "PrayerStreaming, I see more clearly what it means to 'pray without ceasing.' It is not about certain words or spiritual tools or even a quiet place. It's about laying our tasks and our lives before God each day, then asking for his presence and guidance. The book is an inspiring blend of Scripture, examples from real life, and teachings from the great prayer warriors of the past, including Brother Lawrence, Teresa of Avila, and Andrew Murray. Highly recommended." -Karen O'Connor, speaker and author of "Addicted to Shopping and Other Issues Women Have With Money and "Help, Lord! I'm Having a Senior Moment AGAIN "If you want to stay connected to God throughout your day, there is no better book to instruct you than "PrayerStreaming. I'm convinced that my moment-by-moment relationship with God will forever be different because of the time I spent with this engaging book." -Dr. Mell Winger, pastor of prayer at New Life Church, Colorado Springs, CO, editor of "Fight on Your Knees, co-editor of "The Transforming Power of Revival "Walking in the presence of the Lord with every breath we take is what every Christian's heart longs for, yet it seems unattainable. "PrayerStreaming offers fresh insight andpractical help for hungry souls seeking to spend time in God's presence 24/7. Janet Holm McHenry has digested the prayer classics to bring us spiritual nuggets from those who best learned to walk closely with God. You'll literally feel you're sitting at the feet of praying saints of old as they share with you their secrets to a successful prayer life. Within the pages of this book, you'll find the kindling wood to set your heart ablaze with a fire that never goes out." -Cheryl Sacks, author of "The Prayer Saturated Church, co-founder, BridgeBuilders Int'l Leadership Network "Janet Holm McHenry gives clear and wise direction for those who long to pray without ceasing. This book will open your eyes to the hidden power of living in a flow of prayer that never stops. It will change the way you view prayer." -Jennifer Kennedy Dean, executive director of The Praying Life Foundation, author of numerous books, including "Live a Praying Life and "Fueled by Faith
- Publisher


Meet the Author
Janet Holm Mchenry
Janet Holm McHenry speaks around the country at prayerwalk events, retreats and other conferences. A high school English, journalism, and creative writing teacher, she has been prayerwalking for several years and founded a local prayerwalk ministry and a prayer group for parents of teens. She is the author of hundreds of articles and seventeen other books, including PrayerWalk, Daily PrayerWalk, and Prayer Changes Teens.