Praying For Your Future Husband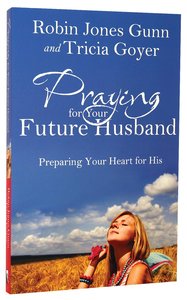 Have you ever thought about praying for your future husband?
Will it make a difference?
There's only one way to find out...

From when we were small girls, most of us dream of "The One", our future husband. We think about what it would be like to be a bride. We wonder who that special guy is and when we'll find him. The great news is that what you do now can make a difference in your life and the life of your future husband!

Authors and good friends Robin Jones Gunn (Christy Miller series) and Tricia Goyer (author and former teen mum) believe God answers women's prayers for husbands - even husbands they may not meet for years. They invite young women to pray boldly for their future mate ... while also asking God to prepare their own hearts.

In Praying for Your Future Husband, Robin and Tricia share their two vastly different experiences, including the things they did right and the mistakes they made on the path to meeting and marrying their husbands. Each chapter includes helpful Bible verses, prayers, and practical application, along with true stories of women who prayed for a husband and how God answered in remarkable ways.

God has a beautiful romance prepared for you. Prayer is the key to unlocking the love story ... with your future husband and with God, the lover of your soul.



- Publisher Praise for Praying for Your Future Husband aThis book is a must-read for every girl who has even wondered what her future husband will be like. Every page left me wishing Iad had this book when I was still single-or during all the years I mentored boy-crazy teenage girls. Whether you are looking for inspiration, encouragement, or even proof that prayer works, this book is for you. The perfect blend of real-life stories and a how-to manual, Praying for Your Future Husband will be an ideal companion from now until the altar.a -Shannon Primicerio, author of The Divine Dance, God Called a Girl, and the TrueLife Bible Studies series aWhen I was twelve years old, my husband began praying for me. I did not know that, of course, because I did not yet know him or God. But later, looking back, I saw how those prayers had miraculously affected my life. Gunn and Goyer are practical, vulnerable, inspirational, and encouraging. I can think of few better gifts for a young lady to offer her future husband than the gift of her prayers, and this book shows how to do it.a -Sandra Byrd, best-selling author of the London Confidential series and other books for teens and tweens a Praying for Your Future Husband is packed with wisdom and overflowing with practical insight to encourage the heart of every young woman seeking Godas best. The perfect blending of Robinas and Triciaas unique and personal journeys to find their mates, it is filled with wisdom and sound advice from Scripture to spur on your prayer life as you follow your own path. This is a must-read for every young woman who desires a road map on the journey of discovering Godas heart!a -Pam Stenzel, MA, author of Nobody Told Me and Sex Has a Price Tag and director of Enlighten Communications aAre you tired of waiting for the right man and convinced that all the good guys are already taken? Want to find the man who will love you and cherish you, having been prepared by the Lord himself ? This book is where you begin. Robin and Tricia have taken all the pieces of the afinding true lovea puzzle and have assembled a clear picture and a path that make sense and tell the truth about God and His plans for you. Stop worrying, and dive right in. This book shows you each step of the way to a future that God has planned for you and your future husband!a -Amanda Bennett, author of more than ninety books

- Publisher
You May Also Be Interested In
About "Praying For Your Future Husband"
Have you ever thought about praying for your future husband?
Will it make a difference?
There's only one way to find out...

From when we were small girls, most of us dream of "The One", our future husband. We think about what it would be like to be a bride. We wonder who that special guy is and when we'll find him. The great news is that what you do now can make a difference in your life and the life of your future husband!

Authors and good friends Robin Jones Gunn (Christy Miller series) and Tricia Goyer (author and former teen mum) believe God answers women's prayers for husbands - even husbands they may not meet for years. They invite young women to pray boldly for their future mate ... while also asking God to prepare their own hearts.

In Praying for Your Future Husband, Robin and Tricia share their two vastly different experiences, including the things they did right and the mistakes they made on the path to meeting and marrying their husbands. Each chapter includes helpful Bible verses, prayers, and practical application, along with true stories of women who prayed for a husband and how God answered in remarkable ways.

God has a beautiful romance prepared for you. Prayer is the key to unlocking the love story ... with your future husband and with God, the lover of your soul.


- Publisher

Praise for Praying for Your Future Husband aThis book is a must-read for every girl who has even wondered what her future husband will be like. Every page left me wishing Iad had this book when I was still single-or during all the years I mentored boy-crazy teenage girls. Whether you are looking for inspiration, encouragement, or even proof that prayer works, this book is for you. The perfect blend of real-life stories and a how-to manual, Praying for Your Future Husband will be an ideal companion from now until the altar.a -Shannon Primicerio, author of The Divine Dance, God Called a Girl, and the TrueLife Bible Studies series aWhen I was twelve years old, my husband began praying for me. I did not know that, of course, because I did not yet know him or God. But later, looking back, I saw how those prayers had miraculously affected my life. Gunn and Goyer are practical, vulnerable, inspirational, and encouraging. I can think of few better gifts for a young lady to offer her future husband than the gift of her prayers, and this book shows how to do it.a -Sandra Byrd, best-selling author of the London Confidential series and other books for teens and tweens a Praying for Your Future Husband is packed with wisdom and overflowing with practical insight to encourage the heart of every young woman seeking Godas best. The perfect blending of Robinas and Triciaas unique and personal journeys to find their mates, it is filled with wisdom and sound advice from Scripture to spur on your prayer life as you follow your own path. This is a must-read for every young woman who desires a road map on the journey of discovering Godas heart!a -Pam Stenzel, MA, author of Nobody Told Me and Sex Has a Price Tag and director of Enlighten Communications aAre you tired of waiting for the right man and convinced that all the good guys are already taken? Want to find the man who will love you and cherish you, having been prepared by the Lord himself ? This book is where you begin. Robin and Tricia have taken all the pieces of the afinding true lovea puzzle and have assembled a clear picture and a path that make sense and tell the truth about God and His plans for you. Stop worrying, and dive right in. This book shows you each step of the way to a future that God has planned for you and your future husband!a -Amanda Bennett, author of more than ninety books
- Publisher


Meet the Authors
Robin Jones Gunn
Robin Jones Gunn is the award-winning, bestselling author of over 60 books with more than 3.5 million copies sold, including the popular Glenbrooke series, the Christy Miller and Sierra Jensen series for teens. A frequent speaker at women's events, she lives with her husband, Ross, and their two teenage children near Portland, Oregon.- Publisher. .
Tricia Goyer
Tricia Goyer has written hundreds of articles, Bible Study notes, and both fiction and non-fiction books, including From Dust and Ashes, Night Song, Arms of Deliverance, and Generation Next Parenting.
She was named Mount Hermon Christian Writers' Conference "Writer of the Year" in 2003. In 2005, her book Life Interrupted was a finalist for the Gold Medallion and her novel Night Song won ACFW's Book of the Year for Long Historical Romance.
In addition to writing, Tricia enjoys sharing Jesus' love through volunteering as a mentor for teenage mothers in her community. She also joins the rest of her family, leading children's church every week, and travels throughout the United States as a speaker, mainly giving presentations to women's groups.
Excerpt
Excerpt from: Praying For Your Future Husband
An Extraordinary Mystery

Robin:
Sometimes, when an idea just won't go away, you need to pay attention to how God is nudging you. That's what happened with this book.

Tricia and I have been friends for almost two decades, and both of us are writers. But our life stories as well as our love stories are radically different. Beyond writing, we do have one interesting commonality: both of us prayed for our future husbands when we were teens. But how did that add up to our writing a book together? Three incidents convinced us we should…

The first moment of inspiration fell on me with a weighty sense of urgency one bright November afternoon. I was in Brazil, standing in front of three hundred teen girls in a school cafeteria. My Christy Miller and Sierra Jensen novels for teens have been translated into Portuguese, and the teachers at this school use the books as part of their curriculum. That meant all the girls had read the books. When my husband and I entered the cafeteria, the girls greeted us with a wave of screams as if we were the real Christy and Todd all grown up and visiting them in Brazil.

To quiet down the screaming girls, I asked the translator to invite them to ask questions. One of the girls raised her hand and popped up from her seat. In Portuguese she asked me what she and her friends should do since the boys in Brazil weren't reading my books.

"What do you mean?" I asked.

She spoke passionately as the translator beside me explained.

"She says that, after reading your books, she and her friends are making good decisions. They've given their lives to Christ and now want to stay pure and save themselves for their future husbands. But, you see, the boys of Brazil are not reading these books. They are not making these same decisions. She wants to know what can be done about that."

My heart pounded. Every face in that cafeteria was fixed on me, waiting for an answer. The young woman had just identified a global problem for our present generation of Christian women. I had heard this frustration voiced many times in letters and e-mails I had received from readers over the years. But no one had ever asked me what could be done to change this dilemma of an unbalanced ratio between God-honoring young women and their male contemporaries who were slow to seek God. What could I tell her?

The words that came out of my heart were, "You can start praying for your future husband now."

The translator gave her my answer, and a reverent hush fell over the room. Before me was a troop of willing but untrained young women ready to enter the warzone to fight for the young men. But how?

I wished then that I had something more to offer those girls. It's one thing to tell them to pray and another thing to come alongside and show them what that looks like. If only, I thought, a book existed. I wished one of my nonfiction writer friends would hurry up and write it. None of them seemed to have a passion for such a book.

The second defining moment came two years later. Tricia and I were at a writers' retreat in California. During the afternoon break, we headed out to the pool. I settled in a lounge chair and wrote notes in my journal for a novel I was working on. Tricia succumbed to the luxurious autumn sunshine and floated off into a deep sleep.

Suddenly she woke up, turned to me, and said, "What?" as if I'd been talking to her while she slept.

I looked at her and spoke an unpremeditated thought. "Tricia, we need to write a book together."

"Okay." She didn't even blink before sinking back into her afternoon lull. A moment later her head rose again. "What are we supposed to write about?"

"I have no idea."

The gentle notion flitted past me as softly as it had fallen on Tricia. We caught the little inspiration the way an artist would reach for a floating feather or a child would bend to pick up a pale blue pebble and tuck it in a pocket.

Over the next year or so we periodically pulled the small inspiration out of our pockets and talked about what we should write. We had lots of ideas, as all creative people do. But the affirmation and direction wasn't there. So we waited, and we prayed…

The third moment of inspiration came with such defining clarity we knew what the book was to be about.

Tricia and I were in Montana, preparing to speak at a women's retreat. The night before the retreat we sneaked off to a lodge for some last-minute planning. I entered the lodge first while Tricia parked the car in the snow. A darling little strawberry blond toddler trotted over to me, put up his arms, and allowed me to scoop him up. His surprised young mom told me his name was Toby, he was eighteen months old, and he was usually not that friendly with strangers. Toby patted my face.

Tricia entered, and Toby's mother froze. She stared at Tricia and in a shaking voice said, "It's you! You're the one who spoke at the luncheon two years ago."

Tricia spoke often at events for teenage girls and women in Montana, so I doubted she would remember this particular young woman from a luncheon two years ago. The mom said, "Do you remember that you talked about being a teen mom and that you prayed God would send you a Christian husband?"

Tricia nodded.

"I did the same thing. I prayed and…" She leaned in closer. "I don't know if you remember my telling you this after the luncheon, but I had just found out I was pregnant."
"
I remember," Tricia said.

"I was scheduled for an abortion just a few days later." The young woman gazed at Toby cuddled up in my arms. "But after I heard your story and what you said about how God answered your prayers, I cancelled the appointment for the abortion, and I prayed for a husband, just like you did."

Her smile widened, and tears formed in her eyes as she told Tricia, "I always wanted to see you again so I could tell you that God answered my prayers. He brought an amazing Christian guy into my life. He loves me, and he loves my son. We've been married for almost a year. When I think about what my life would be like right now if I hadn't heard your story and did what you said…"

By then we were all hugging and crying and hugging some more. Toby climbed into Tricia's arms and received her cuddles and kisses. We couldn't stop crying. It was such a beautiful moment. The room seemed full of light and hope.

After Toby and his mama went their way, Tricia and I sat together in stunned silence. We both knew this was it—this
was the theme of the book we needed to write together: praying for your future husband. We also knew we were the two unlikely novelists being invited to pour our hearts into this project. And so we did.

As we wrote, what tumbled from our hearts surprised us. We didn't compose a handbook on techniques or formula for
effective prayer. Through the ages many wonderful such books have been written. Instead, what we saw forming, as we met together to pray and write, was a book anchored with true stories about what happens when women pray for their future husbands and the ways God answers those prayers.

Both of us agreed to tell our own stories on these pages. This took some courage. Dozens of other women gave us permission to tell portions of their stories as well—how they prayed, how God chose to answer, and how their lives changed in the process. This took courage for them as well. We pulled from our Bibles and journals favorite scriptures and excerpts. These quotes worked perfectly to lace the chapters together.

As the book took shape, we discovered that prayer is an extraordinary mystery.

This sacred privilege of communicating with our Heavenly Father is more than a cozy, open invitation to come to Him
anytime, anywhere. Even though His ears are open to the cries of His children 24/7, prayer is more than that. Prayer is also an act of obedience. We are exhorted to pray for others and to pray without ceasing.

Neither Tricia nor I pretend to have prayer all figured out. What we do know is that God hears. He sees. He knows us. He cares more than we can ever comprehend. And most important of all, God answers prayer.

Perhaps you've noticed that oftentimes the way God answers prayers isn't what we expect. We look back years later and see that what God did was oh so much better than what we first envisioned when we sent our heartfelt requests heavenward. He created us, and He desires the best for us. God always gives His best to those who leave the outcomes with Him.

Another, even more amazing mystery is that when we pray for someone else, we change. All of us were made both to give love and to receive love. When your heart connects through prayer to the One who is the source of true love, you'll find that praying for your future husband will wondrously result in your heart being changed. And when your heart is changed, your life is transformed.

What sort of changes will God bring about in the life of your future husband as a result of your praying for him now?
We don't know.

As you pray for him, what sort of changes will God initiate in your heart? We don't know that either.

But we do know there's only one way to find out…
Customer Reviews For "Praying For Your Future Husband"
Write Your Own Review
Incredibly helpful
By Alice,

Jul 21 2016
I found this book to be incredibly helpful and informative about the way that I want to live my life. I am wanting to be a whole person when I meet my future husband, and this book gave me the encouragement and tools to stay my path.
---
Best book
By Emma,

Jul 21 2016
There really isn't a more perfect book to make prayer personal and intentional. This book was definitely a God send in my life  inspires passion for prayer  the joy  power in praying for others. This book not only challenges your view of prayer, but your view of relationships! Loved it!
---
Better than I had hoped
By Karen,

May 24 2016
Fantastic book! I bought this thinking that I would read it and then hand it on to my teenage daughter. It is packed full of wonderful prayer suggestions and topics that I want to be praying for both my son and daughter as well as their future spouses so there is no way I am giving this book away. Instead, I will use this book with my prayer partner and buy another for my daughter. The stories and real life examples add to the powerful impact this book has. A very well presented simple yet effective prayer tool.
---
Sharing is loving.
By aislinn dillan,

May 28 2014
This book is highly recommended for every females, young or adults, who have been hoping to meet the man of their dreams. Of course, this book is not for what to do's and don'ts rather a guide on how to prepare your heart for your future husband as what the book cover reads. This will mold you to become a Godly woman whom your future Godly husband prayed for as well. :) This is a Bible based book actually as it has Scriptures in it, plus testimonies of how praying for their future husband was effectively answered. Don't underestimate the power of prayer. Ladies, this is for you.

"Couple who prays together, stays together" as what the old saying goes. 

Try downloading the free sample via ebook and see for yourself.
Enjoy the read and God bless your endeavours in life.
xx
---
'A perfect gift'
By Jonelle,

Oct 20 2011
This really is the most amazing book, co-authored by one of my favourite authors. I originally bought this book for myself and two of my friends, but have since bought another six to give away to the teenage girls that I either work with or go to church with. 
This book is not about praying for a husband to come along and sweep you off your feet like in a fairytale, but it is about preparing your heart for his. While praying for your future husbands journey with God, you also have the opportunity to pray for yourself in the same areas (faith, trust, understanding, commitment, purity, love and hope).
A wonderful book to read and re read yourself, to use as a group study resource, or for a mum and daughter (or sisters and friends) to pray for themselves and each other while they wait upon for for their future husband.
{{review.title}}
By {{review.author.name}},

{{review.reviewCreatedDate | date:'MMM dd yyyy'}}

{{reviewdescription}}
{{review.text}}
---