Praying For Your Pastor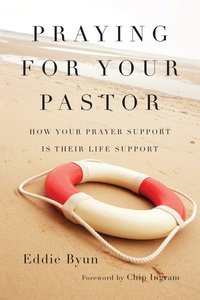 It's tough to be a pastor.Pastors face demands and pressures on every side, from the challenges of church ministry to the realities of spiritual warfare. But you can make a difference. Your prayers provide a lifeline for your pastor's spiritual health and ministry effectiveness.Eddie Byun offers a handy, practical guide to praying for pastors. He shares stories of how congregational intercession changes things, with specific guidelines for prayers for protection, rest, anointing, integrity and more.God calls us to pray for our leaders. When we do, their ministry is strengthened, the kingdom is advanced and lives and communities are transformed.

- Publisher
You May Also Be Interested In
About "Praying For Your Pastor"
It's tough to be a pastor.Pastors face demands and pressures on every side, from the challenges of church ministry to the realities of spiritual warfare. But you can make a difference. Your prayers provide a lifeline for your pastor's spiritual health and ministry effectiveness.Eddie Byun offers a handy, practical guide to praying for pastors. He shares stories of how congregational intercession changes things, with specific guidelines for prayers for protection, rest, anointing, integrity and more.God calls us to pray for our leaders. When we do, their ministry is strengthened, the kingdom is advanced and lives and communities are transformed.
- Publisher


Meet the Author
Eddie Byun
Eddie Byun (D.Min., Gordon-Conwell Theological Seminary) is lead pastor at Onnuri Community Church in Seoul, South Korea. He fights against modern-day slavery through HOPE Be Restored, a ministry of Onnuri's English Ministry.
Table Of Contents
It's Tough To Be A Pastor.pastors Face Demands And Pressures On Every Side, From The Challenges Of Church Ministry To The Realities Of Spiritual Warfare. But You Can Make A Difference. Your Prayers Provide A Lifeline For Your Pastor's Spiritual Health And Ministry Effectiveness.eddie Byun Offers A Handy, Practical Guide To Praying For Pastors. He Shares Stories Of How Congregational Intercession Changes Things, With Specific Guidelines For Prayers For Protection, Rest, Anointing, Integrity And More.god Calls Us To Pray For Our Leaders. When We Do, Their Ministry Is Strengthened, The Kingdom Is Advanced And Lives And Communities Are Transformed.