Praying Scriptures For Spiritual Growth (Volume 2) (#2 in Face To Face Series)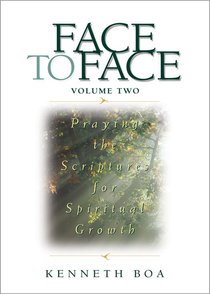 This is a guide for praying Scripture back to God, organized into two parts: a daily growth guide that takes the reader through three months of daily affirmations on the Attributes of God, The Works of God, My Relationship to God, The Character I want to Cultivate, and My Relationships to Others
You May Also Be Interested In
About "Praying Scriptures For Spiritual Growth (Volume 2) (#2 in Face To Face Series)"
This is a guide for praying Scripture back to God, organized into two parts: a daily growth guide that takes the reader through three months of daily affirmations on the Attributes of God, The Works of God, My Relationship to God, The Character I want to Cultivate, and My Relationships to Others
- Koorong

When you're serious about following Christ, you long to become more like Him. You also know that the Bible contains the life-changing truths that will help you reach that goal. Face to Face: Praying the Scriptures for Spiritual Growth helps you turn your devotional times into a daily experience of transformation. Adapting and personalizing select Bible passages, Dr. Kenneth Boa offers you a refreshing and encouraging way to 'renew your mind' as you meditate on and pray about: the attributes of God, the works of God, my relationship with God, the character I want to cultivate, my relationship with others. This inspiring approach will change both your life and the way you view the Scriptures. Prepare to discover the Bible afresh as a marvelous source of prayer and reflection that enables you to love God completely, love yourself correctly, and love others compassionately. Face to Face prayer books help you bring new richness to your devotional times. By connecting Bible reading with personal prayer, they help you approach both in a new way. Get ready to rediscover the Bible as your most treasured prayer book-guiding you into prayers that are alive, faith-filled, and powerful because they're grounded in God's word.
- Publisher


Meet the Author
Kenneth D Boa
Kenneth D. Boa (Ph.D., New York University; D.Phil., University of Oxford in England) is engaged in a ministry of relational evangelism and discipleship, teaching, writing, and speaking.
Dr. Boa is the President of Reflections Ministries, an organization that seeks to encourage, teach, and equip people to know Christ, follow Him, become progressively conformed to His image, and reproduce His life in others. He is also President of Trinity House Publishers, a publishing company that is dedicated to the creation of tools that will help people manifest eternal values in a temporal arena by drawing them to intimacy with God and a better understanding of the culture in which they live.
Recent publications by Dr. Boa include Conformed to His Image; 20 Compelling Evidences that God Exists; Face to Face; Augustine to Freud; Faith Has its Reasons; and God, I Dont Understand. He is a contributing editor to The Open Bible and the consulting editor of the Zondervan NASB Study Bible.
Other Titles In The "Face To Face Series" Series View All