Praying the New Testament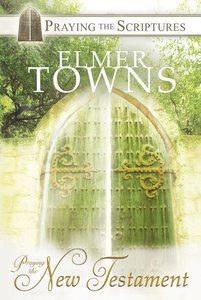 Award-winning author and college professor Elmer Towns brings a unique perspective to the New Testament, translating it directly from the Greek and combining the books into one glorious whole. Infused with life and color, Praying the New Testament includes portraits of the authors, culture, and religious practices of the day. Meticulously researched and written, this is the story of the greatest life every lived. The New Testament comes alive as you pray through the: ??? Gospels. ??? Book of Acts. ??? Letters of apostle Paul. ??? Epistles. ??? Book of Revelation. You will be amazed how the Word of God can permeate your spirit and transform your mind???one exciting page after another

- Publisher
You May Also Be Interested In
About "Praying the New Testament"
Award-winning author and college professor Elmer Towns brings a unique perspective to the New Testament, translating it directly from the Greek and combining the books into one glorious whole. Infused with life and color, Praying the New Testament includes portraits of the authors, culture, and religious practices of the day. Meticulously researched and written, this is the story of the greatest life every lived. The New Testament comes alive as you pray through the: ??? Gospels. ??? Book of Acts. ??? Letters of apostle Paul. ??? Epistles. ??? Book of Revelation. You will be amazed how the Word of God can permeate your spirit and transform your mind???one exciting page after another
- Publisher


Meet the Author
Elmer L Towns
Elmer L. Towns (D.Min., Fuller Theological Seminary) is co-founder of Liberty University, with Jerry Falwell, in 1971, and was the only full-time teacher in the first year of Liberty's existence. Today, the University has over 11,400 students on campus with 39,000 in the Distance Learning Program (now Liberty University Online), and he is the Dean of the School of Religion.
Towns has published over a hundred books including My Father's Names; 10 Sunday Schools That Dared to Change; 10 of Today's Most Innovative Churches; Towns' Sunday School Encyclopedia and the Gold Medallion Award awarded by the Christian Booksellers Association for writing the Book of the Year, The Names of the Holy Spirit. The multi-volume Praying through..... series has been received by a wide readership.
Koorong -Editorial Review.