Praying the Psalms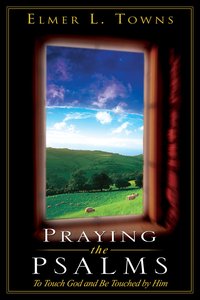 The Psalms are about passion, and you should feel passionately when you read them. The Psalmist poured out his soul to God concerning the things that deeply moved him. As you read the Psalms, you are taking a peek into his heart. As you do you will cry when he weeps, shout when he rejoices, burn when he gets angry and fall on your face when he worships God. Praying the Psalms is a wonderful way to meet God every day in your private devotions. You cannot get closer to God than when you pray the Scriptures, since the book of Psalms reflects the heart of God. Therefore, you will get close to His heart when you pray the Psalms. -- DR. BILL BRIGHT

- Publisher 304 Pages

- Publisher Praying the Psalms carefull shapes the Psalms into personal prayers enabling you to identify with the Psalmist as he prayed. Dr. Towns delicately presents the Psalms as a living language that will move you from your feet to your knees.

- Publisher
You May Also Be Interested In
About "Praying the Psalms"
The Psalms are about passion, and you should feel passionately when you read them. The Psalmist poured out his soul to God concerning the things that deeply moved him. As you read the Psalms, you are taking a peek into his heart. As you do you will cry when he weeps, shout when he rejoices, burn when he gets angry and fall on your face when he worships God. Praying the Psalms is a wonderful way to meet God every day in your private devotions. You cannot get closer to God than when you pray the Scriptures, since the book of Psalms reflects the heart of God. Therefore, you will get close to His heart when you pray the Psalms. -- DR. BILL BRIGHT
- Publisher

304 Pages
- Publisher

Praying the Psalms carefull shapes the Psalms into personal prayers enabling you to identify with the Psalmist as he prayed. Dr. Towns delicately presents the Psalms as a living language that will move you from your feet to your knees.
- Publisher


Meet the Author
Elmer L Towns
Elmer L. Towns (D.Min., Fuller Theological Seminary) is co-founder of Liberty University, with Jerry Falwell, in 1971, and was the only full-time teacher in the first year of Liberty's existence. Today, the University has over 11,400 students on campus with 39,000 in the Distance Learning Program (now Liberty University Online), and he is the Dean of the School of Religion.
Towns has published over a hundred books including My Father's Names; 10 Sunday Schools That Dared to Change; 10 of Today's Most Innovative Churches; Towns' Sunday School Encyclopedia and the Gold Medallion Award awarded by the Christian Booksellers Association for writing the Book of the Year, The Names of the Holy Spirit. The multi-volume Praying through..... series has been received by a wide readership.
Koorong -Editorial Review.