Praying Through Your Child's Early Years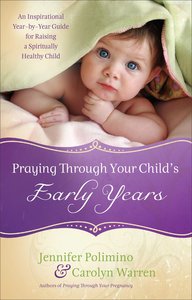 :When Jennifer Polimino's son was born with severe breathing problems, the medical staff whisked him out of the delivery room to the Neonatal Intensive Care Unit. She called after her husband, "Don't let him out of your sight!" and then was left behind. All she could do was cry out to God, a situation that set her on a path of prayer, committed to take her precious son before God's throne in every circumstance. Each year, as her son grows older, she has found new opportunities to pray for him and herself. In Praying Through Your Child's Early Years, Jennifer and her coauthor, Carolyn, share with moms how to meet the challenges and joys of motherhood by turning to God in all things.

Nominated for a 2013 Christian Retailing's Best Award

- Publisher
You May Also Be Interested In
About "Praying Through Your Child's Early Years"
:When Jennifer Polimino's son was born with severe breathing problems, the medical staff whisked him out of the delivery room to the Neonatal Intensive Care Unit. She called after her husband, "Don't let him out of your sight!" and then was left behind. All she could do was cry out to God, a situation that set her on a path of prayer, committed to take her precious son before God's throne in every circumstance. Each year, as her son grows older, she has found new opportunities to pray for him and herself. In Praying Through Your Child's Early Years, Jennifer and her coauthor, Carolyn, share with moms how to meet the challenges and joys of motherhood by turning to God in all things.

Nominated for a 2013 Christian Retailing's Best Award
- Publisher


Meet the Author
Jennifer Polimino
JENNIFER POLIMINO is creator of prayforyourbaby.com and the spokesperson for SlimMomCoach.com, an online coaching program for pregnant women. She and her husband, Dan, were the fitness experts for more than three years on FOX TV's "Good Day Colorado," and with their son, Micah, were "America's Healthiest Family." She has written for The Denver Post and Rocky Mountain News and her columns have appeared in newspapers across the U.S. Jennifer and Dan are the authors of T he Great Shape Up and accompanying DVDs.