Praying With Your Whole Heart (Paraclete Essentials Series)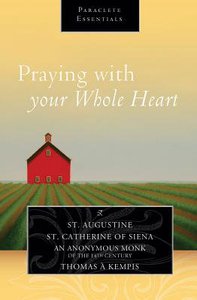 These thematic collections of spiritual teachings from the best Christian writers in history are sure to be popular with book study groups, Centering prayer gatherings, adult Christian formation, and for individual spiritual reading.

- Publisher
You May Also Be Interested In
About "Praying With Your Whole Heart (Paraclete Essentials Series)"
These thematic collections of spiritual teachings from the best Christian writers in history are sure to be popular with book study groups, Centering prayer gatherings, adult Christian formation, and for individual spiritual reading.
- Publisher


Meet the Authors
Saint Augustine
Saint Augustine was born to a Catholic mother and a pagan father on November 13, 354, at Tagasta, near Algiers. He studied Latin literature and later taught rhetoric in Rome and Milan. He originally joined the Manicheans, a religious sect, but grew unhappy with some of their philosophies. He soon turned to Christianity and was baptized in 386. One of Augustine's major goals was a single, unified church. He was ordained a priest in 391 and appointed Bishop of Hippo, in Roman Africa, in 396, His writings and arguments with other sects include the Donatists and the Pelagians. On the Trinity, The City of God, and On Nature and Grace are some of his important writings. Confessions, which is considered his masterpiece, is an autobiographical work that recounts his restless youth and details the spiritual experiences that led him to Christianity. Many of Augustine's ideas, such as those concerning sin and predestination, became integral to the doctrines of the Church. Augustine died on August 28, 430AD.
Catherine Of Siena
Born into a relatively comfortable family of Siena, Catherine opted for the life of asceticism from an early age. She became a Dominican tertiary at 16, refused to marry, and became a recluse. Beginning in 1370 she devoted herself to charitable works in her city, including a ministry to lepers. Gradually, she developed a reputation as a woman who used her personal charismatic authority in resolving conflict. She is credited with encouraging the pope to return to Rome after the Avignon "Captivity," as well as with helping to resolve the Great Western Schism. Her asceticism and personal magnetism attracted many followers.
Other Titles In The "Paraclete Essentials" Series View All