Preaching as the Word of God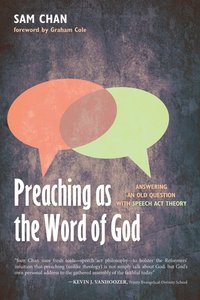 According to the Reformers, preaching is the word of God. As the word of God, preaching is a foundation for the church. It is also vital for the personal growth of a Christian. But Christians are poorly equipped to understand how preaching is the word of God. Some Christians look for preaching that closely reproduces the text in the Bible. Other Christians look for preaching that creates maximal emotional and existential impact. And there is a lot of name-calling with Christians accusing preachers of "not preaching the word." But what type of preaching is the word of God? The purpose of this book is to equip Christians to understand how preaching can be God speaking. It accomplishes this with a survey of the problem in the history of the church, a detailed overview of key biblical texts, and finally the application of the contemporary philosophical tool of speech act theory.

- Publisher
You May Also Be Interested In
About "Preaching as the Word of God"
According to the Reformers, preaching is the word of God. As the word of God, preaching is a foundation for the church. It is also vital for the personal growth of a Christian. But Christians are poorly equipped to understand how preaching is the word of God. Some Christians look for preaching that closely reproduces the text in the Bible. Other Christians look for preaching that creates maximal emotional and existential impact. And there is a lot of name-calling with Christians accusing preachers of "not preaching the word." But what type of preaching is the word of God? The purpose of this book is to equip Christians to understand how preaching can be God speaking. It accomplishes this with a survey of the problem in the history of the church, a detailed overview of key biblical texts, and finally the application of the contemporary philosophical tool of speech act theory.
- Publisher


Meet the Author
Sam Chan
Sam Chan (PhD, Trinity Evangelical Divinity School; MD, University of Sydney) is a public evangelist with City Bible Forum in Sydney, Australia where he regularly shares the gospel with high school students, city workers, doctors, and lawyers. He speaks at conferences around the world on the topics of ethics, story- telling, apologetics, and the practice of evangelism in a post- Christian culture. Sam blogs at espressotheology.com.