Preaching the Atonement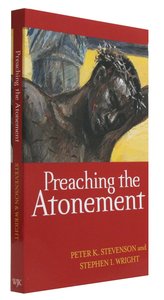 Preaching the Atonement explores some classic texts which throw light on the atonement. Each chapter focuses on a key Biblical passage, offering a theological commentary which will help both preachers and church members gain a deeper understanding of the atoning work of Christ. Each chapter contains a sermon on the chosen text, illustrating how these themes may be communicated to contemporary congregations. Seeking to be sensitive to the literary forms of the chosen texts, these sermons employ a range of homiletical strategies. The sermons are drawn from the works of preachers on both sides of the Atlantic. Preaching the Atonement assumes that the preacher's role is not to squeeze every passage of Scripture into the same mould. Each passage bears witness to another aspect of the many splendored work of Christ; as the preacher invites the congregation to listen to the testimony of this cloud of biblical witnesses.

Table of Contents:
1. The Cost of a Father's Commitment: Genesis 22:1-19
2. Taking Away Their Iniquities: Leviticus 16:15-22
3. The Suffering of a Servant: Isaiah 52:13-53:12
4. The Crucified God: Mark 15:25-39
5. Forgiveness From the Cross: Luke 23:32-43
6. The Word Became Flesh: John 1:1-14
7. The Achievement of God's Justice: Romans 3:21-26
8. The Reconciliation of the World: 2 Corinthians 5:11-6:2
9. The Decisive Victory: Colossians 2:8-15
10. The Final Sacrifice: Hebrews 9:11-14

"Preaching the Atonement is a thoughtful and provocative book on a most important topic. Any preacher who has shied away from preaching about the difficult themes of the cross and the atonement will, by virtue of the solid biblical essays and the creative sermons in this volume, be encouraged to take the plunge into the deep end of the theological pool."
Thomas G. Long, Bandy Professor of Preaching, Candler School of Theology

- Publisher The authors explore a variety of ways in which the Christian doctrine of the atonement, God's act of making humanity one with himself in Christ, may be presented in contemporary preaching.

- Publisher
You May Also Be Interested In
About "Preaching the Atonement"
Preaching the Atonement explores some classic texts which throw light on the atonement. Each chapter focuses on a key Biblical passage, offering a theological commentary which will help both preachers and church members gain a deeper understanding of the atoning work of Christ. Each chapter contains a sermon on the chosen text, illustrating how these themes may be communicated to contemporary congregations. Seeking to be sensitive to the literary forms of the chosen texts, these sermons employ a range of homiletical strategies. The sermons are drawn from the works of preachers on both sides of the Atlantic. Preaching the Atonement assumes that the preacher's role is not to squeeze every passage of Scripture into the same mould. Each passage bears witness to another aspect of the many splendored work of Christ; as the preacher invites the congregation to listen to the testimony of this cloud of biblical witnesses.

Table of Contents:
1. The Cost of a Father's Commitment: Genesis 22:1-19
2. Taking Away Their Iniquities: Leviticus 16:15-22
3. The Suffering of a Servant: Isaiah 52:13-53:12
4. The Crucified God: Mark 15:25-39
5. Forgiveness From the Cross: Luke 23:32-43
6. The Word Became Flesh: John 1:1-14
7. The Achievement of God's Justice: Romans 3:21-26
8. The Reconciliation of the World: 2 Corinthians 5:11-6:2
9. The Decisive Victory: Colossians 2:8-15
10. The Final Sacrifice: Hebrews 9:11-14

"Preaching the Atonement is a thoughtful and provocative book on a most important topic. Any preacher who has shied away from preaching about the difficult themes of the cross and the atonement will, by virtue of the solid biblical essays and the creative sermons in this volume, be encouraged to take the plunge into the deep end of the theological pool."
Thomas G. Long, Bandy Professor of Preaching, Candler School of Theology
- Publisher

The authors explore a variety of ways in which the Christian doctrine of the atonement, God's act of making humanity one with himself in Christ, may be presented in contemporary preaching.
- Publisher


Meet the Authors
Peter Stevenson
Peter K. Stevenson (PhD) has been overseeing the running of the MTh in Applied Theology course at Spurgeon's College since 1995. Before joining the staff team he had served for 17 years as a Baptist minister in Bedford, Shirley (Solihull) and London.


Recent publications include: God in our Nature: The Incarnational Theology of John McLeod Campbell (Carlisle: Paternoster, 2004); Preaching the Atonement (London: T & T Clark, 2005), shortlisted for the Michael Ramsey Prize for Theological Writing, 2007 and most recently Preaching the Atonement
Stephen Wright
Stephen I. Wright (PhD., University of Durham) is Tutor in Biblical Studies and Practical Theology at Spurgeon's College, and previously Director of the College of Preachers, an ecumenical training and resource agency helping preachers of all denominations fulfil their ministry.


His significant publications include The Voice of Jesus: Studies in the Interpretation of Six Gospel Parables (Carlisle: Paternoster/ Wipf and Stock); Tales Jesus Told: An Introduction to the Narrative Parables of Jesus (Carlisle: Paternoster, 2003); Preaching the Atonement (London: T. & T. Clark International, 2005), shortlisted for the Michael Ramsey Prize for Theological Writing, 2007, and most recently Preaching the Incarnation