Preaching With Power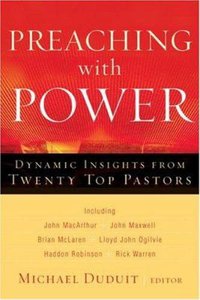 Description: Insights and advice from leaders in the field!

PREACHING WITH POWER brings together powerful personal interviews with dynamic preachers and those who influence preaching today. Discover here how these top communicators prepare and plan for sermons, what role culture plays in shaping their messages, who influenced their ministries, and what they have to say to you.

Drawn from the best of the last decade of Preaching magazine, this book provides an insider's look at the life and vocation of leaders such as:

Bryan Chapell
Jerry Falwell
Jack Graham
O. S. Hawkins
Jim Henry
T. D. Jakes
David Jeremiah
Dan Kimball
Erwin Lutzer
John MacArthur
Brian McLaren
John Maxwell
Lloyd John Ogilvie
Haddon Robinson
Adrian Rogers
Andy Stanley
Jerry Vines
Rick Warren
James Emery White
Ed Young Jr.

Author Information: Michael Duduit (Ph.D., Florida State University) is the founding publisher and editor of Preaching magazine and PreachingNow, a weekly email newsletter that reaches more than 12,500 pastors nationwide. He is also the author or editor of several books and has served on the administrative staffs at Southern Baptist Seminary and Samford, Palm Beach Atlantic, and Union universities. He resides in Franklin, Tennessee.
- Publisher.
You May Also Be Interested In
About "Preaching With Power"
Description: Insights and advice from leaders in the field!

PREACHING WITH POWER brings together powerful personal interviews with dynamic preachers and those who influence preaching today. Discover here how these top communicators prepare and plan for sermons, what role culture plays in shaping their messages, who influenced their ministries, and what they have to say to you.

Drawn from the best of the last decade of Preaching magazine, this book provides an insider's look at the life and vocation of leaders such as:

Bryan Chapell
Jerry Falwell
Jack Graham
O. S. Hawkins
Jim Henry
T. D. Jakes
David Jeremiah
Dan Kimball
Erwin Lutzer
John MacArthur
Brian McLaren
John Maxwell
Lloyd John Ogilvie
Haddon Robinson
Adrian Rogers
Andy Stanley
Jerry Vines
Rick Warren
James Emery White
Ed Young Jr.

Author Information: Michael Duduit (Ph.D., Florida State University) is the founding publisher and editor of Preaching magazine and PreachingNow, a weekly email newsletter that reaches more than 12,500 pastors nationwide. He is also the author or editor of several books and has served on the administrative staffs at Southern Baptist Seminary and Samford, Palm Beach Atlantic, and Union universities. He resides in Franklin, Tennessee.
- Publisher.
- Koorong

For twenty years Preaching magazine has observed, encouraged, and reported on the state of Christian proclamation. Among the most important and popular features of the publication are the personal interviews with outstanding preachers and influencers of preaching. Preaching with Power combines the best of the most recent interviews to build a resource that imparts valuable insight from many gifted communicators. Editor Michael Duduit has skillfully combined interviews with such luminaries as Bryan Chapell, T. D. Jakes, Haddon Robinson, Rick Warren, and more. Each tells his own story in his own words, speaking about his passion to preach God's truth. Better than any volume currently available, this collection captures the rich diversity and power of preaching in America.
- Publisher

Interview and insights from a who's who of America's top pastors, including Rick Warren, Haddon Robinson, Brian McLaren, and Dan Kimball.
- Publisher


Meet the Author
Michael Duduit (Ed)
Michael Duduit es editor fundador de la revista Preading. El es autor y tambien editor de varios libros, incluyendo Communicate with Power. A