Preaching With Purpose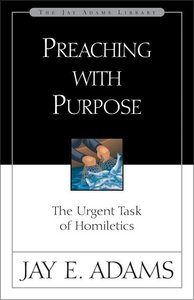 176 Pages

- Publisher 'The amazing lack of concern for purpose among homileticians and preachers has spawned a brood of preachers who are dull, lifeless, abstract and impersonal; it has obscured truth, hindered joyous Christian living, destroyed dedication and initiative, and stifled service for Christ.' --Jay Adams, from the book Preaching needs to become purposeful, says Jay Adams, because purposeless preaching is deadly. This book was written to help preachers and students discover the purpose of preaching has and the ways that the Scriptures inform and direct the preaching task. Preaching with Purpose, like the many other books of Jay Adams, speaks clearly and forcefully to the issue. Having read this book, both students and experienced preachers will be unable to ignore the urgent task of purposeful preaching. And the people of God will be the better for it.

- Publisher
You May Also Be Interested In
About "Preaching With Purpose"
176 Pages
- Publisher

'The amazing lack of concern for purpose among homileticians and preachers has spawned a brood of preachers who are dull, lifeless, abstract and impersonal; it has obscured truth, hindered joyous Christian living, destroyed dedication and initiative, and stifled service for Christ.' --Jay Adams, from the book Preaching needs to become purposeful, says Jay Adams, because purposeless preaching is deadly. This book was written to help preachers and students discover the purpose of preaching has and the ways that the Scriptures inform and direct the preaching task. Preaching with Purpose, like the many other books of Jay Adams, speaks clearly and forcefully to the issue. Having read this book, both students and experienced preachers will be unable to ignore the urgent task of purposeful preaching. And the people of God will be the better for it.
- Publisher


Meet the Author
Jay E Adams
Jay E. Adams (PhD) is a frequent lecturer at ministerial conferences both here and abroad. He has taught in England, France, Holland, Germany, Austria, Switzerland, Spain, N. Ireland, South Africa, Canada, Brazil, Guatemala, New Zealand, Austria, North Korea, and China. He has published over 75 books and is the translator of "The Christian Counselor's New Testament". He recently completed the ten volume "Christian Counselor's Commentary Series". He and his wife Betty Jane have four children.