Preparing For Marriage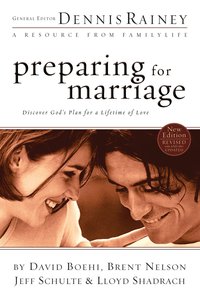 You're in love, and it's the real thing. You have made a joyous decision together--a decision destined to change your lives forever: You're getting married! Now, as you plan your wedding celebration, it is time to lay the foundation for a lifetime of love and romance. Today you can begin the important, lifelong task of building a strong Christian marriage.

Created by FamilyLife, one of America's leading marriage and family ministries, Preparing for Marriage is a dynamic, comprehensive program designed to help you prepare for life together after the cake is cut and the guests head home. That is when the real adventure begins--the adventure of creating an intimate, lasting, and biblical marriage!

Inside you'll find eight sessions of fun, romantic study that will help you target areas for growth in your relationship. You can work through Preparing for Marriage as a couple, with a pastor or premarital counselor, or with a small group. Don't just plan your wedding ... prepare for your marriage!

- Publisher
You May Also Be Interested In
About "Preparing For Marriage"
You're in love, and it's the real thing. You have made a joyous decision together--a decision destined to change your lives forever: You're getting married! Now, as you plan your wedding celebration, it is time to lay the foundation for a lifetime of love and romance. Today you can begin the important, lifelong task of building a strong Christian marriage.

Created by FamilyLife, one of America's leading marriage and family ministries, Preparing for Marriage is a dynamic, comprehensive program designed to help you prepare for life together after the cake is cut and the guests head home. That is when the real adventure begins--the adventure of creating an intimate, lasting, and biblical marriage!

Inside you'll find eight sessions of fun, romantic study that will help you target areas for growth in your relationship. You can work through Preparing for Marriage as a couple, with a pastor or premarital counselor, or with a small group. Don't just plan your wedding ... prepare for your marriage!
- Publisher


Meet the Authors
Dennis Rainey
Dennis Rainey hosts FamilyLife Today , a nationally syndicated broadcast bringing help and hope on nearly 1,000 radio outlets across the U.S. He also serves as president and CEO of FAMILYLIFE in Little Rock, Arkansas. In 2011 Dennis's book Stepping UP: A Call to Courageous Manhood was released. He and his wife, Barbara, have written numerous books, including Parenting Today's Adolescent and the newly revised and updated Passport2Purity . They have six grown children and eighteen grandchildren.
David Boehi
"DAVID BOEHI " is a senior editor at FamilyLife and editor of the HomeBuilders Couples Series.? He is a gradutate of the University of Missouri jounalism school and has served with campus Crusade for Christ since 1976 and FamilyLife since 1988.? He and his wife, Merry, have two married daughters and live in Little Rock. Ark. "
Brent Nelson
BRENT NELSON is a graduate of Trinity College, and earned masters degrees from Indiana University and Trinity Evangelical Divinity School. He worked for many years with Campus Crusade for Christ and FamilyLife, and is now involved in church, vocational, and adoption ministries. He and his wife, Cass, have four children and live in Franklin, Tenn. with their three children.
Jeff Schulte
"JEFF SCHULTE " is a fellow and director of the Sage Hill Institute, an initiative for authentic Christian leadership. He is a graduate of Yale University, earned two masters degrees with highest honors from Western Seminary, and speaks nationally and internationally on biblical masculinity, fatherhood, spiritual formation, leadership, and relational authenticity. He and his wife, Brenda, have six children. "
Lloyd Shadrach
LLOYD SHADRACH is a teacher in residence at Fellowship Bible Church in Brentwood, Tenn., which he co-planted in 1997. Previously he worked with FamilyLife for 13 years. Lloyd is a graduate of Dallas Theological Seminary. He and his wife, Lisa, live in Franklin, Tenn., with their three children.