Preparing Your Daughter For Every Woman's Battle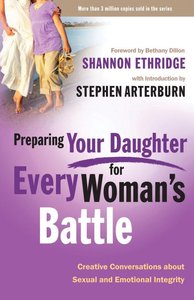 Where Will Your Daughter Turn for Answers About Sex?

Long before we may realize it, our daughters are bombarded with messages about sex-from friends, advertisers, media icons, and more. All of this input-along with the whirlwind of emotions that accompany puberty-can leave them confused, filled with unasked questions about boys, dating, sex, and their own value.

While you may believe that your preteen or early adolescent is too young for "the talk," now is the perfect time for creative conversations about sexuality. By introducing key principles and truths during these teachable years, you can lay a foundation that will help your daughter withstand the inevitable pressures young women face. And you'll create a lasting bond, establishing yourself as a trustworthy authority who is willing to help her address the sensitive issues in her life.

Recognizing how awkward it can be to confront the topic of sex, author Shannon Ethridge guides you and your daughter through enjoyable yet memorable discussions about sexuality, purity, and dating-leading to a deeper understanding of and appreciation for God's standards. Preparing Your Daughter for Every Woman's Battle provides creative tools that will give you the courage and confidence to talk openly and honestly with your daughter-and instill values that will lead her to a lifetime of sexual and emotional integrity.


From the Trade Paperback edition.

- Publisher
You May Also Be Interested In
About "Preparing Your Daughter For Every Woman's Battle"
Where Will Your Daughter Turn for Answers About Sex?

Long before we may realize it, our daughters are bombarded with messages about sex-from friends, advertisers, media icons, and more. All of this input-along with the whirlwind of emotions that accompany puberty-can leave them confused, filled with unasked questions about boys, dating, sex, and their own value.

While you may believe that your preteen or early adolescent is too young for "the talk," now is the perfect time for creative conversations about sexuality. By introducing key principles and truths during these teachable years, you can lay a foundation that will help your daughter withstand the inevitable pressures young women face. And you'll create a lasting bond, establishing yourself as a trustworthy authority who is willing to help her address the sensitive issues in her life.

Recognizing how awkward it can be to confront the topic of sex, author Shannon Ethridge guides you and your daughter through enjoyable yet memorable discussions about sexuality, purity, and dating-leading to a deeper understanding of and appreciation for God's standards. Preparing Your Daughter for Every Woman's Battle provides creative tools that will give you the courage and confidence to talk openly and honestly with your daughter-and instill values that will lead her to a lifetime of sexual and emotional integrity.


From the Trade Paperback edition.
- Publisher


Meet the Authors
Shannon Ethridge
Shannon Ethridge is the best-selling author of "Every Woman's Battle" and coauthor of "Every Young Woman's Battle," as well as a wife, mother, speaker, and lay counselor." Previously a youth pastor and abstinence educator, Shannon has a master's degree in counseling/human relations from Liberty University and she speaks regularly on the Teen Mania Ministries campus and in a variety of other church and college settings. Shannon lives in east Texas with her husband, Greg, and their two children, Erin and Matthew.
Stephen Arterburn
Stephen Arterburn is the founder and chairman of New Life Ministries, America's largest faith-based broadcast, counselling, and treatment ministry, and is the host of New Life Live!- a daily radio program heard on more than 180 radio stations nationwide. He has been featured in publications such as The New York Times, USA Today, and TIME magazine. Arterburn is also the founder of the 'Women of Faith' conferences and has written over 60 books, including the best-selling Every Man's series.
He has been nominated for writing awards and has won three Gold Medallion awards. Arterburn is a well-known public speaker and in August 2000 was inducted into the National Speakers Association's Hall of Fame. He lives with his family in Laguna Beach, California. Some of his published works include Transformation, Finding Mr Right, Control what is controlling you, Boiling Point and NLT Every Man's Bible.
Koorong -Editorial Review.