Presence and Encounter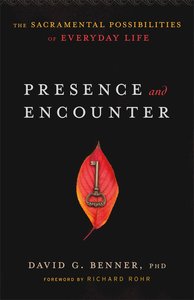 :The most vital and significant moments in life are moments of encounter. Whether we encounter ourselves, others, or God, these moments let us know that life is meaningful. And presence is what makes encounter possible. When we are truly present, everything that has being becomes potentially present to us.

In this unique resource, David Benner invites us to live with more presence so we can know the presence of God more deeply in our lives. Drawing on over thirty-five years of experience integrating psychology and spirituality, Benner examines the transformational possibilities of spiritual presence and encounter in fresh, exciting, and practical ways. He helps readers understand the personal and interpersonal dimensions of presence and encounter, revealing how they mediate Divine Presence and serve as sacraments of everyday life. His rich meditations are presented in a voice that is intelligent, compassionate, and engaging. The book includes end-of-chapter reflection exercises for individual or group use and a foreword by Richard Rohr.

- Publisher
You May Also Be Interested In
About "Presence and Encounter"
:The most vital and significant moments in life are moments of encounter. Whether we encounter ourselves, others, or God, these moments let us know that life is meaningful. And presence is what makes encounter possible. When we are truly present, everything that has being becomes potentially present to us.

In this unique resource, David Benner invites us to live with more presence so we can know the presence of God more deeply in our lives. Drawing on over thirty-five years of experience integrating psychology and spirituality, Benner examines the transformational possibilities of spiritual presence and encounter in fresh, exciting, and practical ways. He helps readers understand the personal and interpersonal dimensions of presence and encounter, revealing how they mediate Divine Presence and serve as sacraments of everyday life. His rich meditations are presented in a voice that is intelligent, compassionate, and engaging. The book includes end-of-chapter reflection exercises for individual or group use and a foreword by Richard Rohr.
- Publisher


Meet the Author
David G Benner
David G. Benner (Ph.D., York University)is an internationally known psychologist, author, spiritual guide, and personal transformation coach who has spent thirty-five years integrating psychology and spirituality. He currently serves as emeritus distinguished professor of psychology and spirituality at Richmont Graduate University in Atlanta, Georgia, and an associate fellow at the Centre for Studies in Religion and Society at University of Victoria in British Columbia, Canada.


He was professor of psychology at Redeemer College (Ontario) and a practicing clinical psychologist. He is the author or editor of twenty books, including the Baker Encyclopedia of Psychology and Counseling and most recently Spirituality and the Awakening Self: The Sacred Journey of Transformation; Soulful Spirituality: Becoming Fully Alive and Deeply Human and Opening to God: Lectio Divina and Life as Prayer
Koorong -Editorial Review.
Table Of Contents
:contents
foreword By Richard Rohr, Ofm
1. The Nature Of Presence
2. Presence And Absence
3. Being Present
4. Three Laws Of Presence
5. Contemplation And Presence
6. Discerning Presence
7. Clouded Presence
8. Luminous Presence
9. Presence And Influence
10. Encounter And Presence
11. Dialogue As Encounter
12. Transformational Encounters
13. Real Presence, Mystical Encounters
14. Encountering Divine Presence