Presumed Guilty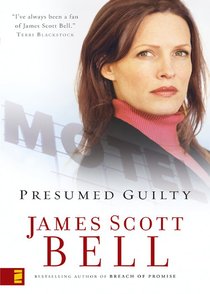 Murder, betrayal, and a trial that feeds a media frenzy.Can one woman stand against the forces that threaten to tear her family apart? Pastor Ron Hamilton's star is rising. His 8,000-strong church is thriving. His good looks and charisma make him an exceptional speaker on family values. And his book on pornography in the church has become an unexpected bestseller. Everything is perfect. Until a young woman's body is discovered in a seedy motel room. The woman is a porn star. And all the evidence in the murder points to one man: Ron.With the noose tightening around her husband's neck, Dallas Hamilton faces a choice: believe the seemingly irrefutable facts?or the voice of her heart. The press has already reached its verdict, and the public echoes it. But Dallas is determined to do whatever it takes to find the truth.And then a dark secret from Dallas's past threatens to take them all down. As the clock ticks toward Ron's conviction and imprisonment, and an underworld of evil encircles her, Dallas must gather all her trust in God to discover what really happened in that motel room ... even if it means losing faith in her husband forever.

- Publisher
You May Also Be Interested In
About "Presumed Guilty"
Murder, betrayal, and a trial that feeds a media frenzy.Can one woman stand against the forces that threaten to tear her family apart? Pastor Ron Hamilton's star is rising. His 8,000-strong church is thriving. His good looks and charisma make him an exceptional speaker on family values. And his book on pornography in the church has become an unexpected bestseller. Everything is perfect. Until a young woman's body is discovered in a seedy motel room. The woman is a porn star. And all the evidence in the murder points to one man: Ron.With the noose tightening around her husband's neck, Dallas Hamilton faces a choice: believe the seemingly irrefutable facts?or the voice of her heart. The press has already reached its verdict, and the public echoes it. But Dallas is determined to do whatever it takes to find the truth.And then a dark secret from Dallas's past threatens to take them all down. As the clock ticks toward Ron's conviction and imprisonment, and an underworld of evil encircles her, Dallas must gather all her trust in God to discover what really happened in that motel room ... even if it means losing faith in her husband forever.
- Publisher


Meet the Author
James Stuart Bell (Jr)
James Stuart Bell, Jr., was director of religious publishing at Doubleday, executive director of Bridge Publishing, and executive editor at Moody Publishing. He has written or consulted for more than a dozen other Christian publishers. At present he is the owner of Whitestone Communications, Inc., a literary development agency. His roles include writer, editor, compiler, packager, publishing consultant, and literary agent. He has compiled Cup of Comfort, Life Savors, and God Encounters series, and the co-author of numerous books in the Complete Idiots Guide series. He makes his home in the western suburbs of Chicago and is married with four children.