Prize of My Heart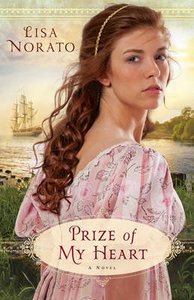 As widower Captain Talvis sets out to find his only child, he soon finds that his quest has repercussions his heart could never have predicted.

- Publisher Rich in Historical Detail, This Is a Romance that Delivers!

An unsolved mystery separates ex-privateersman Captain Brogan Talvis from his lost son--his only living relation, his only family. Shortly before her tragic demise, his wife abandoned their infant to strangers, refusing to reveal the child's whereabouts. Now, three years later, Brogan has discovered the boy at the home of a shipbuilder's daughter, Lorena Huntley.

Lorena guards a dark secret about her young charge. She finds herself falling for the heroic captain who has come to claim his newly built ship, unaware his motive for wooing her is to befriend the boy he plans on reclaiming as his own--until the day another's evil deceit leaves her helplessly shipbound, heading toward England.

As the perfect opportunity to reclaim his son unfolds, Brogan is haunted by thoughts of Lorena in her dire circumstance, and he is forced to make a heartrending choice between his child and the woman who has begun to capture his heart. But only his unselfish sacrifice can win him the greatest prize of all--love.

- Publisher
You May Also Be Interested In
About "Prize of My Heart"
As widower Captain Talvis sets out to find his only child, he soon finds that his quest has repercussions his heart could never have predicted.
- Publisher

Rich in Historical Detail, This Is a Romance that Delivers!

An unsolved mystery separates ex-privateersman Captain Brogan Talvis from his lost son--his only living relation, his only family. Shortly before her tragic demise, his wife abandoned their infant to strangers, refusing to reveal the child's whereabouts. Now, three years later, Brogan has discovered the boy at the home of a shipbuilder's daughter, Lorena Huntley.

Lorena guards a dark secret about her young charge. She finds herself falling for the heroic captain who has come to claim his newly built ship, unaware his motive for wooing her is to befriend the boy he plans on reclaiming as his own--until the day another's evil deceit leaves her helplessly shipbound, heading toward England.

As the perfect opportunity to reclaim his son unfolds, Brogan is haunted by thoughts of Lorena in her dire circumstance, and he is forced to make a heartrending choice between his child and the woman who has begun to capture his heart. But only his unselfish sacrifice can win him the greatest prize of all--love.
- Publisher


Meet the Author
Lisa Norato
Lisa Norato first discovered a love of writing when assigned to write and illustrate a children's book at the art college she attended. She also enjoys walks with her Yorkie-poo, the New England seacoast and changing seasons, good friends, Italian food, historical dramas, and British comedy. A lifelong New Englander, Lisa lives in a historic village with homes and churches dating as far back as the eighteenth century. Currently she works as a legal assistant in the corporate department of a Rhode Island law firm.