Pro-Life Answers to Pro-Choice Arguments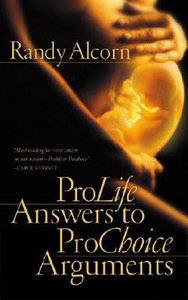 If you're concerned about the national debate over abortion, Randy Alcorn's revised and updated Pro-life Answers to Pro-choice Arguments is an invaluable resource. He offers complete, concise---and biblical---responses to questions raised by pro-choice supporters, all based on impeccable research and scientific evidence. The final chapter---"50 Ways to Help Unborn Babies and Their Mothers"---provides practical suggestions for personal involvement, including volunteer work, letter-writing, political action, and prayer.

- Publisher As politicians, citizens, and families continue the raging national debate on whether it's proper to end human life in the womb, resources like Randy Alcorn's Prolife Answers to Prochoice Arguments have proven invaluable. With over 75,000 copies in print, this revised and updated guide offers timely information and inspiration from a "sanctity of life" perspective. Real answers to real questions about abortion appear in logical and concise form. The final chapter -- "Fifty Ways to Help Unborn Babies and Their Mothers"-- is worth the price of this book alone

- Publisher
You May Also Be Interested In
About "Pro-Life Answers to Pro-Choice Arguments"
If you're concerned about the national debate over abortion, Randy Alcorn's revised and updated Pro-life Answers to Pro-choice Arguments is an invaluable resource. He offers complete, concise---and biblical---responses to questions raised by pro-choice supporters, all based on impeccable research and scientific evidence. The final chapter---"50 Ways to Help Unborn Babies and Their Mothers"---provides practical suggestions for personal involvement, including volunteer work, letter-writing, political action, and prayer.
- Publisher

As politicians, citizens, and families continue the raging national debate on whether it's proper to end human life in the womb, resources like Randy Alcorn's Prolife Answers to Prochoice Arguments have proven invaluable. With over 75,000 copies in print, this revised and updated guide offers timely information and inspiration from a "sanctity of life" perspective. Real answers to real questions about abortion appear in logical and concise form. The final chapter -- "Fifty Ways to Help Unborn Babies and Their Mothers"-- is worth the price of this book alone
- Publisher


Meet the Author
Randy Alcorn
Randy is the author of Heaven which has sold over 4 million copies as well as the novel Courageous.Eternity with Kingstone Media is his first graphic novel.