Prodigals and Those Who Love Them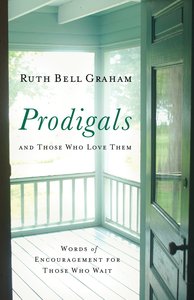 Ruth Bell Graham knew about prodigals--two of her five children were spiritual wanderers. This is not a "how to" book that dispenses easy advice on ways to win back a prodigal. Instead, it is a collection of readings one woman turned to for comfort when her children wandered from God. It shows how Graham's faith persevered and grew regardless of the outcome of her prodigals' stories.
Part One introduces readers to five prodigals who "returned to the father." Part Two offers comfort and encouragement through Scripture, poems, hymns, prayers, and more. Readers will be touched by the honest feelings of pain, frustration, and uncertainty Graham expresses so eloquently. And they will share in the lessons she learned about God's sovereignty and ultimate peace. Now beautifully repackaged, Prodigals and Those Who Love Them brings peace and hope to all parents of "wayward" children.

- Publisher
You May Also Be Interested In
About "Prodigals and Those Who Love Them"
Ruth Bell Graham knew about prodigals--two of her five children were spiritual wanderers. This is not a "how to" book that dispenses easy advice on ways to win back a prodigal. Instead, it is a collection of readings one woman turned to for comfort when her children wandered from God. It shows how Graham's faith persevered and grew regardless of the outcome of her prodigals' stories.
Part One introduces readers to five prodigals who "returned to the father." Part Two offers comfort and encouragement through Scripture, poems, hymns, prayers, and more. Readers will be touched by the honest feelings of pain, frustration, and uncertainty Graham expresses so eloquently. And they will share in the lessons she learned about God's sovereignty and ultimate peace. Now beautifully repackaged, Prodigals and Those Who Love Them brings peace and hope to all parents of "wayward" children.
- Publisher


Meet the Author
Ruth Bell Graham
Ruth Bell Graham was the child of missionary parents, the admired and beloved wife of world-renowned evangelist Billy Graham, mother of five children, grandmother of 19, and great grandmother to a growing number. Ruth was also an accomplished author. In 1996 Ruth and Billy Graham were awarded the Congressional Gold Medal. Her hometown was Montreat, North Carolina where she died on June 14, 2007.