Progressive Dispensationalism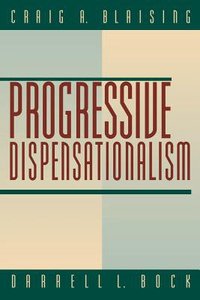 Thoughtful and accessible. An up-to-date, comprehensive overview of the most important issues in dispensationalism, underpinned with accurate scholarship and summarized with clarity.

- Publisher 336 Pages

- Publisher "A new breed of thinkers is emerging within dispensationalism. As representatives of the new generation, Blaising and Bock provide a thoughtful presentation of progressive dispensationalism. Both dispensationalists and covenantalists will be challenged by their rethinking of biblical theology."--Stanley J. Grenz, Carey/Regent College"Blaising and Bock have produced the most important advance in dispensationalist theology since Ryrie's Dispensationalism Today nearly thirty years ago. Progressive dispensationalism has now positioned its movement within the mainstream of biblical scholarship, as it offers a defensible exegesis of each of the Scriptures it treats."--Craig L. Blomberg, Denver Seminary

- Publisher
You May Also Be Interested In
About "Progressive Dispensationalism"
Thoughtful and accessible. An up-to-date, comprehensive overview of the most important issues in dispensationalism, underpinned with accurate scholarship and summarized with clarity.
- Publisher

336 Pages
- Publisher

"A new breed of thinkers is emerging within dispensationalism. As representatives of the new generation, Blaising and Bock provide a thoughtful presentation of progressive dispensationalism. Both dispensationalists and covenantalists will be challenged by their rethinking of biblical theology."--Stanley J. Grenz, Carey/Regent College"Blaising and Bock have produced the most important advance in dispensationalist theology since Ryrie's Dispensationalism Today nearly thirty years ago. Progressive dispensationalism has now positioned its movement within the mainstream of biblical scholarship, as it offers a defensible exegesis of each of the Scriptures it treats."--Craig L. Blomberg, Denver Seminary
- Publisher


Meet the Authors
Craig A Blaising
Craig A. Blaising (PhD.,University of Aberdeen, ThD.,Dallas Theological Seminary) is executive vice president and provost of Southwestern Baptist Theological Seminary, as well as professor of theology. He is the coauthor of Progressive Dispensationalism and a contributor to Three Views on the Millennium and Beyond, The Encyclopedia of Early Christianity and The Christian Educator's Handbook on Spiritual Formation. He is also the coeditor of Dispensationalism, Israel and the Church: The Search for Definition and most recently Psalms 1-50 (Old Testament Volume 7, The Ancient Christian Commentary on Scripture).
-Editorial Review.
Darrell L Bock
Darrell L.Bock (Ph.D., University of Aberdeen) is Research Professor of New Testament Studies, Professor of Spiritual Development and Culture (CCL) at Dallas Theological Seminary. Dr. Bock has earned international recognition as a Humboldt Scholar (Tubingen University in Germany).He is the author or editor of many books, including the two-volume commentary on Luke and the volume on Acts (Baker Exegetical Commentary on the New Testament series), Jesus according to Scripture, The Missing Gospels, Jesus in Context, and Studying the Historical Jesus.