Prophet (#01 in Books Of The Infinite Series)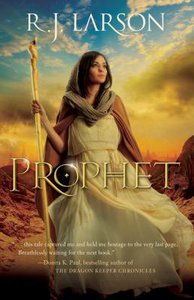 In this imaginative new fantasy series, Ela becomes the Infinite's first woman prophet, but will her role cost a nation its unity--and her life?

- Publisher "This tale captured me and held me hostage to the very last page. Breathlessly waiting for the next book."--Donita K. Paul, author of The Dragon Keeper Chronicles and The Chiril Chronicles

Ela Roeh of Parne doesn't understand why her beloved Creator, the Infinite, wants her to become His prophet. She's undignified and bad-tempered, and at age seventeen she's much too young. In addition, no prophet of Parne has ever been a girl. Worst of all, as Parne's elders often warn, if she agrees to become the Infinite's prophet, Ela knows she will die young.

Yet she can't imagine living without Him. Determined to hear the Infinite's voice, Ela accepts the sacred vinewood branch and is sent to bring the Infinite's word to a nation torn apart by war. There she meets a young ambassador determined to bring his own justice for his oppressed people. As they form an unlikely partnership, Ela battles how to balance the leading of her heart with the leading of the Infinite.

- Publisher
Also Available In
You May Also Be Interested In
About "Prophet (#01 in Books Of The Infinite Series)"
In this imaginative new fantasy series, Ela becomes the Infinite's first woman prophet, but will her role cost a nation its unity--and her life?
- Publisher

"This tale captured me and held me hostage to the very last page. Breathlessly waiting for the next book."--Donita K. Paul, author of The Dragon Keeper Chronicles and The Chiril Chronicles

Ela Roeh of Parne doesn't understand why her beloved Creator, the Infinite, wants her to become His prophet. She's undignified and bad-tempered, and at age seventeen she's much too young. In addition, no prophet of Parne has ever been a girl. Worst of all, as Parne's elders often warn, if she agrees to become the Infinite's prophet, Ela knows she will die young.

Yet she can't imagine living without Him. Determined to hear the Infinite's voice, Ela accepts the sacred vinewood branch and is sent to bring the Infinite's word to a nation torn apart by war. There she meets a young ambassador determined to bring his own justice for his oppressed people. As they form an unlikely partnership, Ela battles how to balance the leading of her heart with the leading of the Infinite.
- Publisher


Customer Reviews For "Prophet (#01 in Books Of The Infinite Series)"
Write Your Own Review
Love this fantasy series!
By Nicole,

Sep 20 2018
I love this entire series! It is so hard to find a good fantasy book that acknowledges God as a key mover and power behind the story without a) seeming heavy handed and "preachy" or b) representing him differently than how he has revealed himself in the scriptures. Larson does it beautifully! She also weaves in references to events surrounding the Old Testament prophets, the miracles God worked through them, and other biblical-historical references, re-imagining them all in this fantasy setting, which I absolutely love. This is probably the best truly Christian fantasy book I've ever read. 
---
Riveting fantasy with sound Biblical references
By Lucinda,

Mar 24 2018
Firstly, let me say that this was one of the first Christian fantasy books I've ever read, and it was a thoroughly enjoyable introduction to this genre. I came away from this book feeling so replete, yet so eager for more! 

My favourite part of this book: the interweaving of Bible stories. RJ Larson managed to touch on several different stories from the Old Testament, mostly unrelated to each other yet all recognisable in their own right (such as the portrayal of Jezebel and the prophets of Baal). 

But yet, this story is still uniquely its own, it's not another rewrite or Biblical fiction. It very much has an "other-worldly" feel to it, as evidenced by things like The Vinewood Branch, the Scalns, and the disease Ela's sister suffers from. I can't tell you, as a fan of sci-fifantasy in general, how much I enjoyed reading a book that had fantasy elements in it without magic. I felt like I could read without having my guard up, questioning whether the content was spiritually sound. Every time I wondered what was waiting for me in the next chapter, BOOM! Another spiritual lesson, straight from the Bible!
---
Thoroughly engrossing
By DJay,

Mar 03 2018
I found this a wonderful read, as soon as I finished it I had to get the next story. I found it engaged me on several levels as well as an entertaining story, it made me think and question my relationship with God and I found the main character extremely relatable. I think this is a great read for anyone who questions if God really wants them in all their flaws and this story resounds with a great YES!
---
Great read
By Kezza,

Apr 11 2017
This is a great book once you get into it. I thought it a bit slow to start but had me captivated by the end. It's a great strong story on Faith in God and learning to listen to your calling regardless of what you are up against. Its an encouraging book for those that would like to see an example of listening for Gods voice. Novels like this based on biblical principles, is a great way to understand the meaning behind the words in scripture in an easy to read format
{{review.title}}
By {{review.author.name}},

{{review.reviewCreatedDate | date:'MMM dd yyyy'}}

{{reviewdescription}}
{{review.text}}
---
Other Titles In The "Books Of The Infinite Series" Series View All