Prophetic Ministry (Level Ii)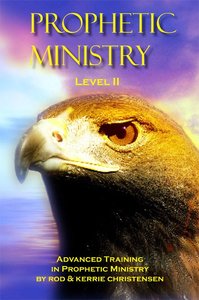 A comprehensive guide and training manual for the development of the prophetic anointing and the establishment of prophetic ministries.

Topics covered:

+ Laws of the Spirit
+ The Call of God
+ Leadership in the Prophetic
+ Prophetic Signs
+ The Prophetic in Creative Arts
+ Prophetic Worship
+ Prophetic Pitfalls
+ More About Dreams
+ Prophets and Seers
+ Coupling Apostolic Authority with Prophetic Vision
+ The Spirit of Elijah

Together with The Prophetic Ministry Training Manual Level I, this exciting Manual will provide you with all the information you need to establish and strengthen healthy, vibrant prophetic ministry teams within the local church or marketplace.
- Publisher.
You May Also Be Interested In
About "Prophetic Ministry (Level Ii)"
A comprehensive guide and training manual for the development of the prophetic anointing and the establishment of prophetic ministries.

Topics covered:

+ Laws of the Spirit
+ The Call of God
+ Leadership in the Prophetic
+ Prophetic Signs
+ The Prophetic in Creative Arts
+ Prophetic Worship
+ Prophetic Pitfalls
+ More About Dreams
+ Prophets and Seers
+ Coupling Apostolic Authority with Prophetic Vision
+ The Spirit of Elijah

Together with The Prophetic Ministry Training Manual Level I, this exciting Manual will provide you with all the information you need to establish and strengthen healthy, vibrant prophetic ministry teams within the local church or marketplace.
- Publisher.
- Koorong

A Comprehensive Guide and Training Manual for the Development of the Prophetic Anointing and the Establishment of Prophetic MinistriesThis extensive Training Manual will provide you with all the tools you need to develop in Prophetic Ministry.Topics covered:Laws of the SpiritThe Call of GodLeadership in the PropheticProphetic SignsThe Prophetic in Creative ArtsProphetic WorshipProphetic PitfallsMore About DreamsProphets and SeersCoupling Apostolic Authority with Prophetic VisionThe Spirit of ElijahTogether with The Prophetic Ministry Training Manual Level I, this exciting Manual will provide you with all the information you need to establish and strengthen healthy, vibrant Prophetic Ministry Teams within the local church or marketplace...
- Publisher