Psalms 1-50 (Brazos Theological Commentary On The Bible Series)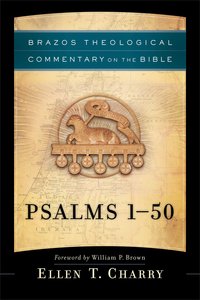 $

8.99

$

7.19
You Save: $1.80 (20%)
Hardback
:The biblical psalms are perhaps the most commented-upon texts in human history. They are at once deeply alluring and deeply troubling. In this addition to the acclaimed Brazos Theological Commentary on the Bible, a highly respected scholar offers a theological reading of Psalms 1-50, exploring the various voices in the poems to discern the conversation they engage about God, suffering, and hope as well as ways of community belonging. The commentary examines the context of the psalms as worship--tending to both their original setting and their subsequent Jewish and Christian appropriation--and explores the psychological dynamics facing the speaker. Foreword by William Brown.

- Publisher
You May Also Be Interested In
About "Psalms 1-50 (Brazos Theological Commentary On The Bible Series)"
:The biblical psalms are perhaps the most commented-upon texts in human history. They are at once deeply alluring and deeply troubling. In this addition to the acclaimed Brazos Theological Commentary on the Bible, a highly respected scholar offers a theological reading of Psalms 1-50, exploring the various voices in the poems to discern the conversation they engage about God, suffering, and hope as well as ways of community belonging. The commentary examines the context of the psalms as worship--tending to both their original setting and their subsequent Jewish and Christian appropriation--and explores the psychological dynamics facing the speaker. Foreword by William Brown.
- Publisher


Meet the Author
Ellen T Charry
Ellen Charry (Ph.D., Temple University) is Margaret W. Harmon Associate Professor of Systematic Theology at Princeton Theological Seminary. Her interest is in the role of Christian practices and beliefs in the spiritual life. She teaches a Ph.D. seminar in patristic theology, often Augustine's doctrine of God, she serves as an editor-at-large for The Christian Century.


She has authored God and the Art of Happiness with assistance from the Evangelical Education Society of the Episcopal Church. Her other major publications include By the Renewing of Your Minds: The Pastoral Function of Christian Doctrine (Oxford University Press) and Inquiring after God: Classic and Contemporary Readings (Blackwell) and Psalms (Brazos Theological Commentary)
Other Titles In The "Brazos Theological Commentary On The Bible Series" Series View All