Psalms 42-89 (Volume 2) (Baker Commentary On The Old Testament Wisdom And Psalms Series)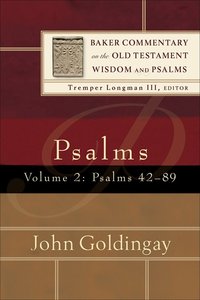 This is the second of a three-volume commentary on the Psalms, combining literary, historical, grammatical, and theological insight in a widely accessible manner. One of today's foremost experts on biblical theology, John Goldingay covers Psalms 42-89 with his own translation of each passage, followed by interpretive comments and theological implications.

"The book of Psalms is the literary sanctuary; a holy place where humans share their joys and struggles with brutal honesty in God's presence," writes Tremper Longman III, editor of the Baker Commentary on the Old Testament Wisdom and Psalms series. Pastors, seminary students, scholars, and Bible study leaders will enjoy this accessible and enriching volume. This is the fourth volume in the series.

- Publisher
You May Also Be Interested In
About "Psalms 42-89 (Volume 2) (Baker Commentary On The Old Testament Wisdom And Psalms Series)"
This is the second of a three-volume commentary on the Psalms, combining literary, historical, grammatical, and theological insight in a widely accessible manner. One of today's foremost experts on biblical theology, John Goldingay covers Psalms 42-89 with his own translation of each passage, followed by interpretive comments and theological implications.

"The book of Psalms is the literary sanctuary; a holy place where humans share their joys and struggles with brutal honesty in God's presence," writes Tremper Longman III, editor of the Baker Commentary on the Old Testament Wisdom and Psalms series. Pastors, seminary students, scholars, and Bible study leaders will enjoy this accessible and enriching volume. This is the fourth volume in the series.
- Publisher


Meet the Author
John Goldingay
John Goldingay (Ph.D., University of Nottingham) is David Allan Hubbard Professor of Old Testament at Fuller Theological Seminary in Pasadena, California. His books include Models for Scripture; Models for Interpretation of Scripture; Walk On; and commentaries on Psalms (Baker Commentary on the Old Testament Wisdom and Psalms - 3 volumes); Isaiah (New International Bible Commentary); Daniel (Word Biblical Commentary); The Message of Isaiah 40-55: A Literary-Theological Commentary; and with David Payne, Isaiah 40-66 (International Critical Commentary - 2 volumes), and the recently completed Old Testament Theology(three volumes from InterVarsity Press). His major project is now to complete the series Old Testament for Everyone Bible commentary series
Koorong - Editorial Review.
Table Of Contents
This Is The Second Of A Three-volume Commentary On The Psalms, Combining Literary, Historical, Grammatical, And Theological Insight In A Widely Accessible Manner. One Of Today's Foremost Experts On Biblical Theology, John Goldingay Covers Psalms 42-89 With His Own Translation Of Each Passage, Followed By Interpretive Comments And Theological Implications.

"the Book Of Psalms Is The Literary Sanctuary; A Holy Place Where Humans Share Their Joys And Struggles With Brutal Honesty In God's Presence," Writes Tremper Longman Iii, Editor Of The Baker Commentary On The Old Testament Wisdom And Psalms Series. Pastors, Seminary Students, Scholars, And Bible Study Leaders Will Enjoy This Accessible And Enriching Volume. This Is The Fourth Volume In The Series.
Other Titles In The "Baker Commentary On The Old Testament Wisdom And Psalms" Series View All