Psalms (Understanding The Bible Commentary Series)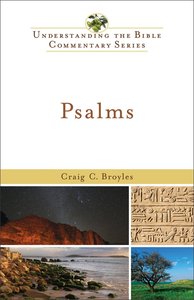 Each volume in the New International Bible Commentary Series breaks down the barriers between the ancient and modern worlds so that the power and meaning of the biblical texts become transparent to contemporary readers. The contributors tackle the task of interpretation using the full range of critical methodologies and practices, yet they do so as people of faith who hold the text in the highest regard. They present a careful section-by-section exposition of the biblical books with key terms and phrases highlighted and all Hebrew and Greek transliterated. Notes at the close of each chapter provide additional textual and technical comments for those who want to dig deeper. A bibliography as well as Scripture and subject indexes are also included. Pastors, students, and Bible teachers will find in this series a commitment to accessibility without sacrificing serious scholarship.

- Publisher
You May Also Be Interested In
About "Psalms (Understanding The Bible Commentary Series)"
Each volume in the New International Bible Commentary Series breaks down the barriers between the ancient and modern worlds so that the power and meaning of the biblical texts become transparent to contemporary readers. The contributors tackle the task of interpretation using the full range of critical methodologies and practices, yet they do so as people of faith who hold the text in the highest regard. They present a careful section-by-section exposition of the biblical books with key terms and phrases highlighted and all Hebrew and Greek transliterated. Notes at the close of each chapter provide additional textual and technical comments for those who want to dig deeper. A bibliography as well as Scripture and subject indexes are also included. Pastors, students, and Bible teachers will find in this series a commitment to accessibility without sacrificing serious scholarship.

- Publisher
- Koorong

Craig Broyles examines the Psalms as a diverse collection of poems whose main roots are in Jerusalem's worship services. Both in the past and in the present, they provide dynamic liturgies though which the worshipper encounters God--often with vigorous dialogue--and finds meaning for life. Broyles makes the best of contemporary scholarship on the Psalms accessible to both general readers and serious students.
- Publisher


Meet the Author
Craig C Broyles
Craig C. Broyles, (Ph.D., University of Sheffield) is professor of religious studies at Trinity Western University. He is the author of several books, including a commentary on the Psalms (New International Biblical Commentary), The Conflict of Faith and Experience: A Form-Critical and Theological Study of Selected Lament Psalms and co-editor of Writing and Reading the Scroll of Isaiah: Studies of an Interpretive Tradition.
Other Titles In The "Understanding The Bible Commentary" Series View All