Psychology (Reclaiming The Christian Intellectual Tradition Series)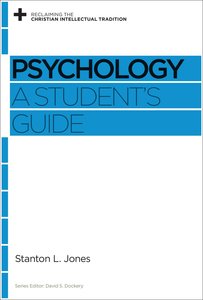 :In recent years, the study of psychology has become more prominent as technical terms, concepts, and theories have gained prominence and acceptance among laypeople. However, the prevalence of talk' about 'psychology has not always led to greater understanding of the discipline itself. This introductory resource for Christian students examines the field from a distinctly Christian perspective. The first section looks to the history of psychological inquiry, focusing on thinkers such as Augustine and Thomas Aquinas, the influence of the Enlightenment and Darwinism, and the development of modernist psychology. In section two, readers interact with the great ideas of psychology, such as the origins of morality, nature vs. nurture, the relationship between the mind and the brain, and the concept of personal identity.

- Publisher
You May Also Be Interested In
About "Psychology (Reclaiming The Christian Intellectual Tradition Series)"
:In recent years, the study of psychology has become more prominent as technical terms, concepts, and theories have gained prominence and acceptance among laypeople. However, the prevalence of talk' about 'psychology has not always led to greater understanding of the discipline itself. This introductory resource for Christian students examines the field from a distinctly Christian perspective. The first section looks to the history of psychological inquiry, focusing on thinkers such as Augustine and Thomas Aquinas, the influence of the Enlightenment and Darwinism, and the development of modernist psychology. In section two, readers interact with the great ideas of psychology, such as the origins of morality, nature vs. nurture, the relationship between the mind and the brain, and the concept of personal identity.
- Publisher


Meet the Author
Stan Jones
Stanton L. Jones (Ph.D. in clinical psychology from Arizona State University) is provost and professor of psychology at Wheaton College in Wheaton, Illinois. During his tenure as chair of the psychology department (1984-1996), he led the development of Wheaton's Doctor of Psychology program in clinical psychology. He is a member of the American Psychological Association and served on the Council of Representatives, the central governing body of the APA, representing the Psychology of Religion division from 1999 to 2001.
In 1994 he was named a Research Fellow of the Evangelical Scholars Program of the Pew Foundation. He was a Visiting Scholar at the Divinity School of the University of Cambridge and a Visiting Fellow at Clare Hall, University of Cambridge, for the 1995-1996 academic year. Jones authored the lead article, "Religion and Psychology," for the Encyclopedia of Psychology, jointly published in 2000 by the American Psychological Association and Oxford University Press.
Jones has also written, with his wife, Brenna, a five-book series on sex education in the Christian family called God's Design for Sex. He is also the co-author of Modern Psychotherapies (with Richard E. Butman) and Homosexuality: The Use of Scientific Research in the Church's Moral Debate and Ex-gays? :A Longitudinal Study of Religiously Mediated Change in Sexual Orientation (with Mark A. Yarhouse) and editor of Psychology and Christianity: Five Views. He has published many other professional and popular articles and chapters.
Other Titles In The "Reclaiming The Christian Intellectual Tradition Series" Series View All