Pulling Down Strongholds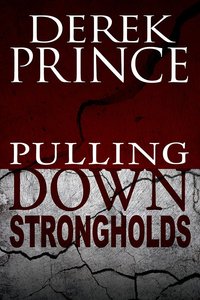 You Are in a War, Whether You Know It or Not. Most Christians would have no hesitancy in affirming the concept that God has a kingdom, with its angelic hosts. Unfortunately, many Christians are unaware that Satan also has a kingdom, represented by a host of demons. With earth as the battlefield, these two kingdoms wage war with one another for our minds and souls. As Christians, we need to understand the nature of this war and how Satan's kingdom operates. Legendary author and Bible teacher Derek Prince examines the concept of spiritual warfare as an unmistakable aspect of Christian living. Thanks to this crucial teaching, you will...Discover why spiritual warfare exists; Understand how Satan's kingdom operates; Learn the six weapons of spiritual warfare; Implement strategies that will bind Satan's schemes; Tap into the overcoming power of the Holy Spirit. Satan has already declared war on God's kingdom. As citizens of God's kingdom, we have no choice; we are already at war. Therefore, it is vital that we be prepared in order to overcome the enemy's plans, push back the darkness, and proclaim victory for our God!

- Publisher
You May Also Be Interested In
About "Pulling Down Strongholds"
You Are in a War, Whether You Know It or Not. Most Christians would have no hesitancy in affirming the concept that God has a kingdom, with its angelic hosts. Unfortunately, many Christians are unaware that Satan also has a kingdom, represented by a host of demons. With earth as the battlefield, these two kingdoms wage war with one another for our minds and souls. As Christians, we need to understand the nature of this war and how Satan's kingdom operates. Legendary author and Bible teacher Derek Prince examines the concept of spiritual warfare as an unmistakable aspect of Christian living. Thanks to this crucial teaching, you will...Discover why spiritual warfare exists; Understand how Satan's kingdom operates; Learn the six weapons of spiritual warfare; Implement strategies that will bind Satan's schemes; Tap into the overcoming power of the Holy Spirit. Satan has already declared war on God's kingdom. As citizens of God's kingdom, we have no choice; we are already at war. Therefore, it is vital that we be prepared in order to overcome the enemy's plans, push back the darkness, and proclaim victory for our God!
- Publisher


Meet the Author
Derek Prince
Derek Prince was born in India of British parents in 1915. He was educated at Eton College and Cambridge University, England, where he held a Fellowship in Ancient and Modern Philosophy at King's College. While serving with the British army in World War II, he began to study the Bible and experienced a life-changing encounter with Jesus Christ. He then devoted his life to studying and teaching the Bible.


Derek Prince taught and ministered on six continents for over seven decades, imparting God's revealed truth, praying for the sick and afflicted, and sharing his prophetic insights into world events in the light of Scripture. His daily radio broadcast Derek Prince Legacy Radio (formerly Keys to Successful Living), reaches more than half the world. He was the author of over 80 books, over 600 audio teachings, and over 100 video teachings, many of which have been translated and published in other languages. Derek Prince died in 2003 in Jerusalem.