Punching Holes in the Dark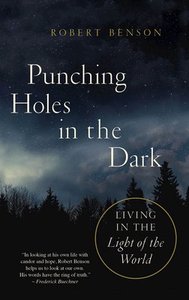 We do not, and cannot, by definition, know much about the Kingdom to come. But the 'One Who Came Among Us' not only came to reassure us of the gift of the Kingdom that is yet unseen but to proclaim the presence of the Kingdom already among us - even when we cannot see it and we cannot hear it. Sometimes we cannot see much evidence of the Kingdom that is already here. How do we find it, not lose sight of it, and even share its message of hope with others in the darkness? Discover strength in the gifts of the Spirit and start punching holes, my friends - as hard as we can, as often as we can; and let the Light of the world sneak in.

- Publisher
You May Also Be Interested In
About "Punching Holes in the Dark"
We do not, and cannot, by definition, know much about the Kingdom to come. But the 'One Who Came Among Us' not only came to reassure us of the gift of the Kingdom that is yet unseen but to proclaim the presence of the Kingdom already among us - even when we cannot see it and we cannot hear it. Sometimes we cannot see much evidence of the Kingdom that is already here. How do we find it, not lose sight of it, and even share its message of hope with others in the darkness? Discover strength in the gifts of the Spirit and start punching holes, my friends - as hard as we can, as often as we can; and let the Light of the world sneak in.
- Publisher


Meet the Author
Robert Benson
Robert Benson is a popular author, spiritual director and conference speaker. He is the author of six previous books, including Living Prayer, Venite : A Book of Daily Prayer, Digging In: Tending to Life in Your Own Backyard, Home by Another Way: Notes from the Caribbean, The Body Broken: Answering God's Call to Love One Another and Between the Dreaming and the Coming True. He lives in Nashville, Tennessee.