Pursuing His Presence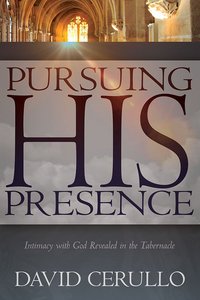 "I will open my mouth in parables, I will utter hidden things, things from of old." Psalm 78:2 NIV. Journey into the Heart of God. However, just as earthly treasures aren't found lying in plain sight but instead must be searched for and mined, so must the spiritual riches that God has buried for us in His Word be searched for with diligence. With David Cerullo as your guide and this book as your treasure map, you'll embark on a journey of discovery and transformation as you Explore ancient scriptural truths unveiling the pathway into God's awesome presence. Understand as never before the riches hidden within the tabernacle. Discover the joy of ever-deepening intimacy with the Lord. Get ready to embark on a life-changing path that will draw you straight into the very heart of God!

- Publisher
You May Also Be Interested In
About "Pursuing His Presence"
"I will open my mouth in parables, I will utter hidden things, things from of old." Psalm 78:2 NIV. Journey into the Heart of God. However, just as earthly treasures aren't found lying in plain sight but instead must be searched for and mined, so must the spiritual riches that God has buried for us in His Word be searched for with diligence. With David Cerullo as your guide and this book as your treasure map, you'll embark on a journey of discovery and transformation as you Explore ancient scriptural truths unveiling the pathway into God's awesome presence. Understand as never before the riches hidden within the tabernacle. Discover the joy of ever-deepening intimacy with the Lord. Get ready to embark on a life-changing path that will draw you straight into the very heart of God!
- Publisher


Meet the Author
David Cerullo
David Cerullo is the Chairman and CEO of Inspiration Ministries in Indian Land, South Carolina, and is dedicated to impacting people for Christ worldwide through media. David is a unique combination of Christian minister and corporate businessman. The son of international evangelist Morris Cerullo, David took a less traditional approach to ministry, graduating from Oral Roberts University with a degree in business administration and management. David and his wife, Barbara, hosted a daily international television outreach program, Inspiration Today!