Pursuit of Justice (#03 in Call Of Duty Series)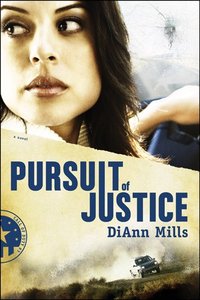 Special Agent Bella Jordan is assigned to investigate a series of murders in West Texas that are linked to the Spider Rock Treasure. Since she spent the first fifteen years of her life in this area, FBI authorities believe she can get the job done. What they don?t know is that one of their prime suspects?a man who?s been on their wanted list for years?is deeply connected to Bella?s past.
The other prime suspect is Carr Sullivan, the man who owns the ranch where the murders occurred. Carr was once one of the wealthiest businessmen in Dallas and has a shady past a mile long. But it appears he?s turned his life around. Can Bella trust him, or is he just trying to cover his tracks?
As Bella probes deeper into the case, threats on her own life convince her the killer is someone she knows. But it soon becomes clear he?s not working alone, and she?ll need to face the past she?s tried so desperately to forget in order to solve the case and prevent more murders.

- Publisher
You May Also Be Interested In
About "Pursuit of Justice (#03 in Call Of Duty Series)"
Special Agent Bella Jordan is assigned to investigate a series of murders in West Texas that are linked to the Spider Rock Treasure. Since she spent the first fifteen years of her life in this area, FBI authorities believe she can get the job done. What they don?t know is that one of their prime suspects?a man who?s been on their wanted list for years?is deeply connected to Bella?s past.
The other prime suspect is Carr Sullivan, the man who owns the ranch where the murders occurred. Carr was once one of the wealthiest businessmen in Dallas and has a shady past a mile long. But it appears he?s turned his life around. Can Bella trust him, or is he just trying to cover his tracks?
As Bella probes deeper into the case, threats on her own life convince her the killer is someone she knows. But it soon becomes clear he?s not working alone, and she?ll need to face the past she?s tried so desperately to forget in order to solve the case and prevent more murders.
- Publisher


Meet the Author
Diann Mills
Award-winning author, DiAnn Mills, has over forty-nine books in print and has sold more than a million and a half copies. She is a finalist for the 2008 Christy Award for her novel, Lightning and Lace. Six of her anthologies have appeared on the CBA Best Seller List. Five of her books have won placements through ACFW's Book of the Year Awards 2003-2007. She is the recipient of the Inspirational Reader's Choice Award for 2005 and 2007. DiAnn and her husband have four adult sons and lives in Houston, Texas.
Other Titles In The "Call Of Duty Series" Series View All