Putting Jesus in His Place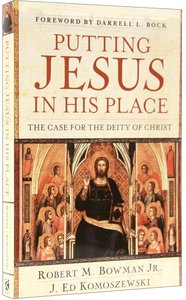 What Christians have affirmed for two millennia—that Jesus Chris is God—is frequently and openly called into question today. What is surprising is those who hold to the authority of Scripture deny it. The central theological distinctive of Christianity—that Jesus is God incarnate— has repeatedly come under fire from adherents to other religions and scholars who interpret Jesus as a prophet, angel, or guru. Putting Jesus in His Place is designed to introduce Christians to the wealth of biblical teaching on the deity of Christ. Using evidence from the New Testament, this book helps readers appreciate the significance of Christ's deity in a personal relationship with Him, and gives them the confidence to share the truth about Jesus with others.

- Publisher
You May Also Be Interested In
About "Putting Jesus in His Place"
What Christians have affirmed for two millennia—that Jesus Chris is God—is frequently and openly called into question today. What is surprising is those who hold to the authority of Scripture deny it. The central theological distinctive of Christianity—that Jesus is God incarnate— has repeatedly come under fire from adherents to other religions and scholars who interpret Jesus as a prophet, angel, or guru. Putting Jesus in His Place is designed to introduce Christians to the wealth of biblical teaching on the deity of Christ. Using evidence from the New Testament, this book helps readers appreciate the significance of Christ's deity in a personal relationship with Him, and gives them the confidence to share the truth about Jesus with others.
- Publisher


Meet the Authors
Robert M Bowman (Jr)
Robert M. Bowman Jr. (Ph.D. candidate, Westminster Theological Seminary) is the manager of the Apologetics & Interfaith Evangelism department of the North American Mission Board (http://www.4truth.net). For five years he was a lecturer in the M.A. in Christian Apologetics program at Biola University. He is the author of eleven other books, including Why You Should Believe in the Trinity and (with Kenneth D. Boa) the Gold Medallion Award winning book Faith Has Its Reasons and most recently Putting Jesus in his place: a case for the deity of Christ
J Komoszewski (Ed)
J. Ed Komoszewski (Th.M., Dallas Theological Seminary) is founder and director of Christus Nexus and has taught biblical and theological studies at Northwestern College and served as the director of research for Josh McDowell. Ministry. He is the co-author of Reinventing Jesus: How Contemporary Skeptics Miss the Real Jesus and Mislead Popular Culture and Putting Jesus in His Place: the case for the deity of Christ.